WHY CHOOSE WOOL CARPETS FOR YOUR HOME
Wool is engineered by nature for keeping out freezing temperatures, rain and snow. However, it also cools the herds in warmer months. Therefore, it comes as little surprise that wool is naturally engineered to create beautiful and durable carpets.
When it comes to sustainability, this is the natural choice. Shearing is an essential process for the sheep's welfare and this annual shearing provides a continuous supply of wool year after year, making it a totally renewable raw material.
Proven performance
One of wool's great properties lies in the fibres. Its natural property results in the following benefits:
Reduced heat loss, condensation and noise
Improved air quality
Ease of maintenance
Reduced effects of tracking and shading
Naturally flame retardant
Superior durability and performance
The bulk and springiness will naturally reform following compression
Inbuilt resistance to soiling thanks to its natural oils and the scaled structure of the fibre, which acts as a shield against dirt.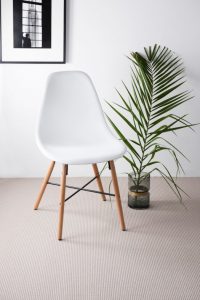 How to clean a wool carpet
Now that we've persuaded you to invest in a new carpet, we thought we best share some top tips on how to keep it clean! We're helpful like that.
Vacuum regularly
Thankfully wool is dirt and stain resistant, but you still need to vacuum it at least once a week. This will give it the best chance of looking its best longer and will prevent dirt and debris sinking into the carpet.
Tackle stains straight away
Whatever you do, don't let a stain settle into your carpet – the longer its there, the harder it will be to remove. Invest in a high-quality carpet stain remover and follow its instructions. Just make sure you test the product on an inconspicuous section first.
Don't Soak the fibres
One of the positives of the fibres is that they create little air pockets to provide insulation throughout the colder months. However, this makes carpets difficult to dry. Be sparing with any fluid used to clean the carpet and ventilate the room by opening windows and using a fan.
Do not Clean with hot water
A wool carpet is just the same as your favourite jumper – the water temperature should always remain below 60°C. Wool will shrink and, in the case of carpets, pull away from the wall if the water is too hot.
Never use harsh cleaning products
Wool is made up out of sensitive, natural fibres that must not be exposed to direct sunlight or harsh cleaning agents. Make sure you buy a mild carpet cleaner without bleach and with a pH of 5-8.–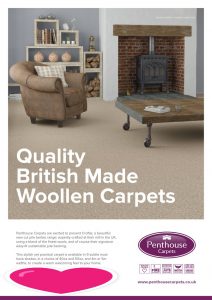 CONTACT US
Whatever your carpet and flooring needs we are here to help.
Why not pop in to one our Carpet and Flooring Showrooms.
To view our extensive range of floorings.
Karndean, Amtico, Laminates, LVT, vinyl, coir matting, artificial grass, safety flooring, carpet and flooring.
We provide a FREE – NO OBLIGATION QUOTE on all jobs.  No matter how big or small, residential or commercial.
Our team will happily visit your home or premises and bring samples with them.
5 Chelford Grove
Stoke Lodge
Bristol
BS34 6DD
OR
Unit 15 Hemingway Business Centre
Walker Way
Thornbury
Bristol
BS34 3US
01454 620707 (same number for both Showrooms)
https://www.phoenixflooringltd.co.uk
enquiries@phoenixflooringltd.co.uk
WHY NOT DOWNLOAD OUR PHONE APP – SO THAT YOU ALWAYS HAVE OUR INFO TO HAND
CLICK ON THE BUTTON (DOWNLOAD GENIUS APP) ON THE FRONT PAGE OF OUR WEBSITE AND FOLLOW THE INSTRUCTIONS