A family business with over 40 years experience in the carpet and flooring trade.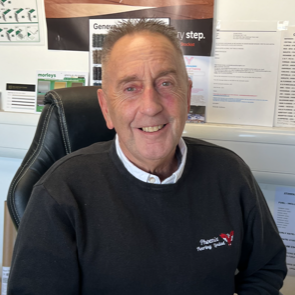 Nigel
Director
Nigel is the Director of the company. He started the company back in 1992 from his home in Little Stoke. He then opened a shop in Stoke Lodge in 1996 before moving the business to Thornbury in 2018 due to the growth of Phoenix Flooring Ltd.
Nigel grew up in Patchway and went to Patchway High School, before becoming a carpet fitter/floor layer.
Nigel is the father of 3 children and popsy to 5 grandchildren with another one on the way.
He is sport mad and a Bristol Rovers Season Ticket Holder and Manchester United Fan.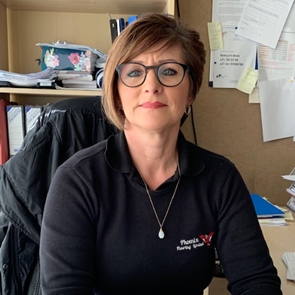 Michelle
Manager
Michelle is Nigel's life partner and started with the business back in 2016. Michelle has adult twins, both of whom she is very proud off. Her daughter works in Finance in the NHS and her son is a well known DJ on the Bristol music scene, DJ French Silk. Michelle grew up in Olveston/Tockington, going to Olveston Primary School and then Marlwood Comprehensive.
Michelle is a Bristol City and Manchester United fan. She is sports mad (watching only these days!).
Michelle and Nigel live in Bradley Stoke, with Michelle's kids and their dog Levi.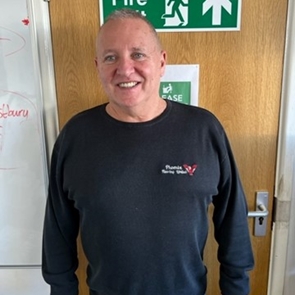 Geoff
House Build Department
Geoff joined the business back in 1996, when Nigel and Geoff worked out of the Stoke Lodge Showroom, which was also the warehouse and office. Due to our expansion Geoff also now works out of the Thornbury Office, in the House Build Department.
Geoff and his wife Clare live in Bristol. They have 4 children and 7 grandchildren.
He is big Bristol Bears Fan.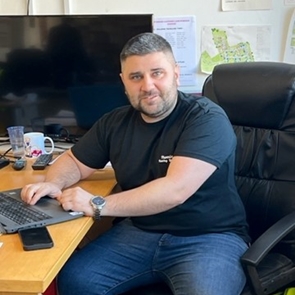 Karl
House Build Development
Karl joined the company in 2005 as a carpet/floor fitter. In 2016 Karl moved into the office full time, working in the House Build Department.
Karl lives locally with his wife Sam and they have a beautiful dog, a Labrador/Akita called Finn. In 2023 we are looking forward to welcoming their first child into the world.
Karl is a Bristol Rovers Season Ticket Holder, Manchester United Fan and Bristol Flyers Season Ticket Holder.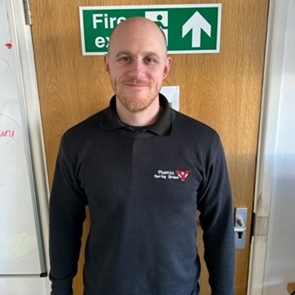 Matt
House Build Development
Matt joined the company back in 2018, starting in our Stoke Lodge Showroom, then moving up to the Thornbury Offices due to our expansion. He works in our House Build Department.
Matt is our First Aider
Hobbies include keeping fit and going to the gym
He loves a Sunday roast and dance music.
He also loves listening to Radio 1 whilst in work!!!!!!!!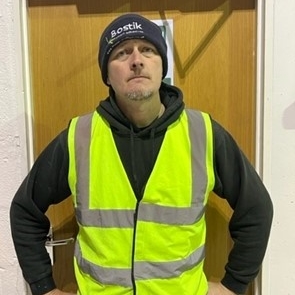 Simon
Remedials
Simon started with us as a self-employed fitter along with his two sons.
Then in 2021 Simon came on board as our full time Remedials Man.
Simon is married with 5 children and 3 grandchildren.
Hobbies – Star Wars Fan and watching films.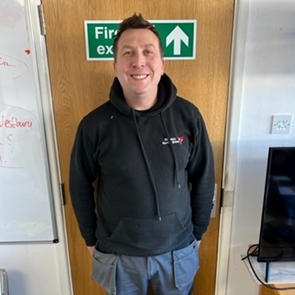 Jamie
Warehouse
Jamie joined us in 2021 as our Warehouse Operative.
Jamie and his partner Stacey live in Bristol, he has 1 son, 1 step son and a step daughter. His step-son also used to work for us.
Hobbies – Going to the gym and watching Bristol Rovers, listening to Smooth Radio and singing along in the Warehouse!
Also loves a Nandos and the Mighty Toby Carvery.
Nickname at Phoenix – The Elite Jammer.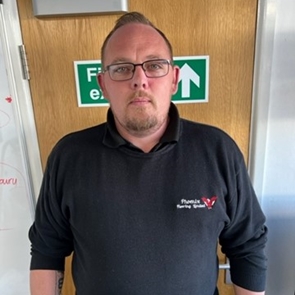 Leigh
Sales
Leigh joined the company back in 2021, working in Sales in our Carpet and Flooring showroom in Thornbury.
He lives in South Wales and has 1 daughter.
He likes movies, cakes and enjoys golf. His favourite film is The Shawshank Redemption.
His dislikes are: tomatoes, fresh cream, heights, sprouts, oranges, pineapple on anything especially pizza, Will Farrell movies, goats cheese, anything spicy, plums, celery, salad cream, Chinese food, salad, boiled eggs.
He has a dog named Doodle and a fish called Wanda.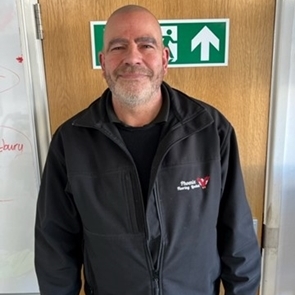 Stuart
Sales
Stuart joined us in 2022 working in Sales in our carpet and flooring showroom in Thornbury, alongside Leigh.
He lives in Bradley Stoke with his partner, they have three children and two grandchildren.
Stuart loves his sports, previously playing many himself (he is getting on a bit now!)
They have a Cavachon dog called Albie.
1977

Nigel Preen starts his carpet & flooring career in Thornbury working for Johns Furnishings in St Mary's Way, then for Kerry Johns on Thornbury Industrial Estate. He then went on to fit Carpets & Flooring for several other carpet shops including John Lewis, Clifton Interiors and several Commercial Flooring Companies.

1992

Nigel starts his own company called Aztec Carpets, working from his home in Little Stoke.

1996

Nigel purchased 5 Chelford Grove, Stoke Lodge for a showroom/warehouse. All deliveries were made to this address and all fitters worked from this address.

2014 

We rent a small warehouse in Hambrook to store more carpets and flooring, but we soon outgrow this warehouse.

2017

Nigel decides he wants to return to his roots and where his career started, so we start looking for suitable premises in Thornbury. Unit 15 Hemingway Business Centre came on the market and was exactly what we wanted, a warehouse with the potential to add a showroom, on the main Thornbury Industrial Estate.

2018

We move into Unit 15 in January 2018. This allows all deliveries to come to this address and all our fitters would now work out of here too. Work began later in 2018 for a brand new mezzanine floor, purpose built for the carpet and flooring showroom. We soon grew out of these premises as well.

2020

Luckily Unit 13 was available and we moved our warehouse there in October 2020. Then all the New House Building staff and administrative staff moved into Unit 13, freeing up a lot of space in the Stoke Lodge Showroom. This allowed us to extend the Carpet & Flooring Showroom at Unit 15.
Our Thornbury Showroom was going from strength to strength, so after long deliberation we decided to close our Stoke Lodge Showroom after 26 years of trading, and concentrate on Thornbury.

2022

We now employee 9 members of full time staff. We have emersed ourselves into the local community,  sponsoring Tytherington Rocks FC, Thornbury Town FC, Thornbury RFC, Olveston United AFC, Olveston & District Bowling Club, Old Down Cricket Club, Little Stoke FC and Patchway Town FC. We are also really excited about advertising on Thornbury Radio.
Contact us for a Free Consultation
Get in touch with us today to find out more.