WHY BUY YOUR FLOORING FROM YOUR LOCAL SHOP AND NOT ONLINE BY PHOENIX FLOORING LIMITED, BRISTOL

The internet is a vast shopping mall open 24/7 with every product you could imagine for sale.
You can easily compare prices and have your goods delivered right to your front door without even having to leave your home. However, no matter how good the price or convenience, some products aren't worth buying online. One of these items is flooring. Yes, that means giving up shopping in your pj's.
However, isn't it worth it to be more confident you're getting the end result that you want in your home?  Flooring isn't worth the risk of buying without seeing it in person.
Colours in any photo, no matter how high the image quality, do not colour match the product.
Shopping online, there is no way to tell precisely what the flooring colour will look like in person or how well its colour will match your room. Not to mention that you can't judge the quality of the flooring without handling the goods in person. Shopping online, you definitely can't test different carpets/flooring for comfort. Carpet doesn't just need to look good – it needs to feel good when you walk, sit or lie down on it. The only way to know for sure is to visit the store and feel it in person. Walking around and browsing through a store is a much more relaxed process than conducting a focused online search. It also gives you a chance to discover other products that might interest you – possibly even at lower prices.
So, you think that when you open the package and decide you don't love what you selected, you can return it.
That's true, but shipping it back can be both expensive and inconvenient, especially for larger items like flooring. For instance, to return luxury vinyl tile flooring purchased online, you'll have to go through the hassle of packing it and sending it back within a certain amount of time after purchase. You might even have to pay the cost of shipping it back yourself. With something like luxury vinyl tile flooring, you can't return your purchase once it is installed.
When you shop in a brick-and-mortar store, you'll deal with a real, live salesperson.
We do this for a living- all day every day and have done for many years! To get the result you are looking for, take advantage of our expert knowledge.
Yes it may be cheaper online, as they buy and store in bulk, so therefore get better prices than your local shops, but you don't get the same personal service and all the guarantees you get from a shop. Not only that you will have to arrange your own fitter to come and fit your flooring.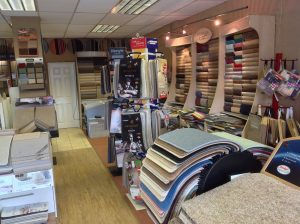 Why not pop into one of our Carpet and Flooring Showrooms.
CONTACT US
Whatever your carpet and flooring needs we are here to help.
Why not pop in to one our Carpet and Flooring Showrooms.
To view our extensive range of floorings.
Karndean, Amtico, Laminates, LVT, vinyl, coir matting, artificial grass, safety flooring, carpet and flooring.
We provide a FREE – NO OBLIGATION QUOTE on all jobs.  No matter how big or small, residential or commercial.
Our team will happily visit your home or premises and bring samples with them.
5 Chelford Grove
Stoke Lodge
Bristol
BS34 6DD
OR
Unit 15 Hemingway Business Centre
Walker Way
Thornbury
Bristol
BS34 3US
01454 620707 (same number for both Showrooms)
https://www.phoenixflooringltd.co.uk
enquiries@phoenixflooringltd.co.uk
WHY NOT DOWNLOAD OUR PHONE APP – SO THAT YOU ALWAYS HAVE OUR INFO TO HAND
CLICK ON THE BUTTON (DOWNLOAD GENIUS APP) ON THE FRONT PAGE OF OUR WEBSITE AND FOLLOW THE INSTRUCTIONS