Benefits of LVT flooring
Luxury Vinyl Tile or LVT flooring is a fantastic choice for any home, property development or commercial space.
It is becoming a popular alternative to wood or laminate flooring as it is extremely robust, waterproof and available in beautiful and authentic designs.  Its versatility means that it can be used in any room in your home.
What is Luxury Vinyl Tile flooring?
LVT is made from multiple layers, which have been compressed together to create a floor covering.  The surface has a design layer, which is an extremely high-quality representation of natural flooring products.  The most popular styles of LVT are planks of wooden flooring, stone tiles or ceramic tiles.  The designs are really authentic and can transform your home without the setbacks of actually having a natural product.
The surface of LVT is covered with a transparent and protective coating with a built-in stain guard and scratch resistance.  This makes LVT flooring extremely durable and hard wearing, soft to walk on and even waterproof.  If you are looking for a floor covering that will last for decades, is easy to look after, and has a waterproof surface, then LVT is the choice for you.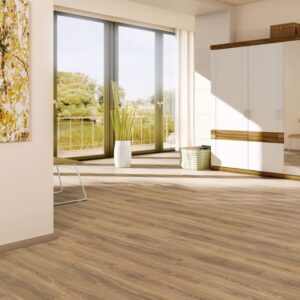 What are the main benefits of using Luxury Vinyl Tile flooring?
Durabilty
All types of LVT flooring are hardwearing and durable.  Most are also waterproof and have a built it scratch and stain guard. LVT is far more robust than wood or tile flooring than can easily become worn due to daily wear and tear. The surface of LVT will not dent or scratch as easily as some wooden floors.  Some manufacturers of LVT are so confident in the strength of the flooring than they offer up to a 25 year guarantee on the domestic ranges. Some types of LVT have been specifically designed and produced to withstand even more footfall and have extra protection on the surface, making them suitable for commercial venues.
Beautiful designs
The designs of LVT flooring are almost endless. The idea is that the flooring replicates the look of a natural product, usually wood or tiles. The designs are high quality and give a realistic and authentic appearance.  New designs are continually being added to the range so you will be sure to find something to complement your tastes.
Easy to look after
If you are looking for a low maintenance floor, then LVT is a great choice.  It requires very little care and all you will need to do is sweep away dust and dirt on a regular basis and mop to remove any stubborn stains.  It is an extremely hygienic floor so prefect for allergy sufferers too.
Easy to install
LVT is really easy to install.  There are different types of LVT, depending upon whether you want to float it over an underlay or glue it down to the subfloor.  Whichever installation method you choose, you will need to ensure that your subfloor is fully prepared. If you choose to float your LVT then you will simply click the planks/tiles together to create a seamless floor.  If you want to glue LVT to the subfloor, you will need to use flexible flooring adhesive for a full surface bond.
Versatile
LVT is known for its versatility and practicality.  It is robust and waterproof, making it ideal for any room in your home.  The durability of LVT means that it can withstand busy areas such as hallways and living rooms and it can even be fitted onto your staircase. It is a very soft flooring to walk on, which gives it sound reducing benefits, making it a great choice for bedrooms, studies or nurseries.  LVT can also withstand constant changes in temperature.  It can be used with underfloor heating and in rooms like conservatories or orangeries.
Waterproof
Most types of LVT are 100% waterproof.  This makes them ideal for areas with excess water such as bathrooms, kitchens or utility rooms.
Under Floor Heating
The way that LVT has been designed means that is the perfect floor to use with underfloor heating systems.  LVT is thin enough to allow the heat to transfer sufficiently and stable enough to withstand the changes in temperature.
Cost effective
Generally speaking LVT is much more cost effective than wooden flooring or tiles.  This is mainly because you are not paying a premium for a natural product.  Despite the lower price, you are still getting a beautiful, durable and versatile flooring.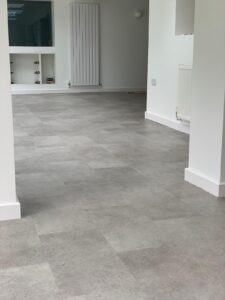 Whatever your carpet and flooring needs – why not pop in to one our Carpet and Flooring Showrooms at Stoke Lodge or Thornbury, Bristol and view our extensive range of Karndean, Amtico, Laminates, LVT, vinyl, coir matting, carpet and flooring.
We provide a FREE – NO OBLIGATION QUOTE on all jobs, no matter how big or small, residential or commercial.Our team will happily visit your home or premises and bring samples with them.Please visit one of our Showrooms at :
5 Chelford Grove
Stoke Lodge
Bristol
BS34 6DD
OR
Unit 15 Hemingway Business Centre
Walker Way
Thornbury
Bristol
BS34 3US
01454 620707 (same number for both Showrooms)
https://www.phoenixflooringltd.co.uk
enquiries@phoenixflooringltd.co.uk