Why You Should Install Water Resistant Laminate Flooring
When it comes to choosing a flooring, you are no doubt overwhelmed with your options. No flooring is simple. You don't merely choose wood flooring or tile or laminate. Every option has a plethora of sub options and colours. Each has its own set of benefits and drawbacks, making the idea of choosing a flooring incredibly overwhelming. But you might take a moment to consider some of the benefits of choosing water resistant laminate flooring.
Yes, there are many great floors, but in the scheme of things, choosing a floor that is water resistant is a great term choice in regards to how long it will last, saving money long term (and short term), and ensuring a beautiful floor.
If you aren't convinced, that's alright, but consider the top three benefits of choosing water resistant laminate flooring.
Benefits Of Water Resistant Laminate
It Has a Low Cost and Easy Installation
Laminate is known to be one of the more cost efficient types of flooring. What's even better? By choosing water resistant laminate flooring, you aren't compromising the low cost. Even when they go the extra mile to ensure its durability, the cost is still quite affordable for most people, something that everyone likes to hear.
On top of that, you can still install it on your own. Laminate flooring is known for being incredibly user friendly, meaning you aren't required to spend any money hiring someone to install your floor for you. Besides, isn't it incredibly satisfying to know that you installed the floor that you and your children are walking on?
You Can Install it in a Room With High Moisture
Water resistant laminate flooring is several steps above the normal laminate flooring which isn't necessarily known for being water resistant. But by choosing the water resistant kind you can go as far as installing it in your bathroom without any risk of it warping or becoming weak. While this may not seem like much, it is a huge advantage to be able to put a wood product in a room with such high moisture.
Even kitchens, known to be areas with quite a bit of moisture, where a decent number of spills take place, would be a safe option when you decide to choose water resistant laminate. This floor allows much more flexibility when it comes to what type of flooring you can install and where you can install it.
Durability
As if it even needed to be mentioned, durability is a huge plus when it comes to choosing a floor. Choosing a water resistant laminate floor is a great way to ensure excess durability. I mean, these floors are already known for being durable, so if you add the fact that they are now water resistant, you have a floor that could last forever! When it comes to your home, you want a floor that can stand up against your family and the inevitable mess and this flooring can do it.
If you have kids, I would recommend this flooring even more. Spilling things is practically a job requirement for children. It's simply going to happen, whether you like it or not. The last thing you want is for them to spill something when you're not there to realise it and to experience a ruined floor as a result.
When it comes to your home, why chance it?
EGGER PRO Laminate Flooring with Aqua+Â technology provides a moisture resistant flooring solution and an easy clean, cost-effective alternative to tiles.
Aqua+Â is available in 18 eye-catching decors in a variety of wood grain, stone or ceramic decors across 2 different board sizes in 8mm thickness (class32). Application areas include bathrooms, kitchens and living rooms, as well as bars, restaurants and retail spaces.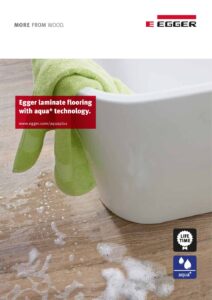 IN CONCLUSION
WHY NOT CONTACT US
Whatever your laminate and flooring needs we are here to help.
Why not pop in to one our Carpet and Flooring Showrooms.
To view our extensive range of floorings.
Karndean, Amtico, laminates, wood flooring, LVT, vinyl, coir matting, artificial grass, safety flooring, carpet and flooring.
We provide a FREE, NO OBLIGATION QUOTE on all jobs.  No matter how big or small, residential or commercial.
In addition, one of our team will happily visit your home or premises and bring samples with them.
5 Chelford Grove
Stoke Lodge
Bristol
BS34 6DD
OR
Unit 15 Hemingway Business Centre
Walker Way
Thornbury
Bristol
BS34 3US
01454 620707 (same number for both Showrooms)
FACEBOOK: https://www.facebook.com/phoenixflooringlimited/
LINKED IN: https://www.linkedin.com/company/11463803
INSTAGRAM: https://www.instagram.com/phoenixflooringlimited/
#laminateflooring #laminate #flooring #floor#floors #flooringideas #flooringideas
#flooringdesign #home #bedroomdecor #bedroom #bedroomideas #lounge #loungedecor #hall #hallway #entrance#clifton #sneydpark #redland #thornbury #olveston #stokegifford#carpetshop #yate
 #bristol #kingswood #downend #clifton #interiors #interiordecorating #egger