We are pleased to announce, we will be advertising on Thornbury Radio Station.
We are pleased to be working with the great team at
Thornbury Radio
– Chris and Nigel are amazing. We love listening to your show in our Office. The music is great for all ages and tastes, we also love all information we get on local events and businesses. Keep up the good work guys x
About Us
Thornbury Radio – Your Choice. Your Voice!
Thornbury Radio. Your Choice. Your Voice. Local radio station for Thornbury and District. Local news, information, music and more!
Hello, we are Thornbury Radio.
We are a not-for-profit organisation regulated by the Office of the Regulator of Community Interest Companies. Our mission is to deliver a hyper-local radio station serving Thornbury and District.
We aim to deliver high quality, relevant programming to Thornbury.  We support development of our community through frequent on-air mentions, sponsorship and campaigns.  Unlike other stations, scarcely 10 minutes will pass without you hearing the word "Thornbury" or something else that is locally relevant!
Musically we are far more diverse than other stations on the dial.  In contrast to most commercial stations that playlist only 300-400 songs, our playlist has over 5000 songs, and that excludes the music we play in specialist shows!
This website and web station are just the beginning.  We launched on FM across much of South Glos in 2021!  In time we hope to broadcast digitally to Thornbury on DAB.  There are some exciting developments on that front that will make it possible for small stations to "join the big boys" on DAB!
Thornbury Radio is more than a radio station – we are: Your Choice.  Your Voice!   While the big faceless commercial stations go increasingly regional and national, Thornbury Radio will continue to highlight local news, events and causes in and around Thornbury.  We will spotlight local organisations and get to grips with local issues that affect Thornbury.
Thornbury Radio is owned and operated by Thornbury Media Community Interest Company which is registered in England & Wales, Company Number 10727113.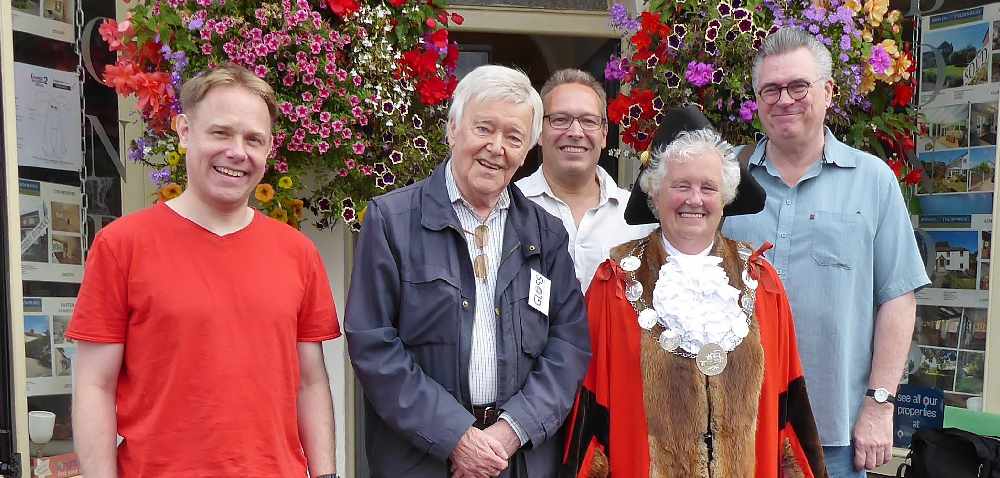 WHY NOT POP IN AND GRAB A BARGAIN AND TAKE AWAY THE SAME DAY
We are now offering CASH & CARRY at our Thornbury Showroom.
We are also offering a local delivery service at an additional cost.
PHOENIX FLOORING LIMITED, BRISTOL
Whatever your carpet and flooring needs we are here to help.
Why not pop in to our Thornbury Carpet and Flooring Showroom.
To view our extensive range of floorings.
Karndean, Brampton Chase, LVT, Laminates, wood flooring, sheet vinyl, coir matting, artificial grass, safety flooring, carpet and flooring and much more
We provide a FREE NO OBLIGATION QUOTE on all jobs.  No matter how big or small, residential or commercial.
Our team will happily visit your home or premises and bring samples with them.
Unit 15 Hemingway Business Centre
Walker Way
Thornbury
Bristol
BS34 3US
01454 620707
https://www.phoenixflooringltd.co.uk
enquiries@phoenixflooringltd.co.uk
WHATEVER YOUR TASTE, STYLE AND BUDGET, WE HAVE SOMETHING FOR EVERYONE
WHY NOT DOWNLOAD OUR PHONE APP – SO THAT YOU ALWAYS HAVE OUR INFO TO HAND
CLICK ON THE BUTTON (DOWNLOAD GENIUS APP) ON THE FRONT PAGE OF OUR WEBSITE AND FOLLOW THE INSTRUCTIONS
COVID 19
HAND SANITISER IS PROVIDED UPON ENTERING THE BUILDING AND READY FOR WHEN YOU LEAVE.
WE HAVE CARRIED OUT A COVID 19 RISK ASSESSMENT.
CLEANING, HAND WASHING AND HYGIENE PROCEDURES ARE ALL IN PLACE.
WE HAVE TAKEN ALL REASONABLE STEPS TO MAINTAIN A 2 METRE DISTANCE.
If you are not comfortable coming into the Showroom, we would be more than happy to come to your home and provide a free measure and quotation. We can bring samples with us for you to look at.