The Chantry Thornbury, Bristol – flooring supplied and fitted by Phoenix Flooring Limited
Fusion carpet tiles supplied and fitted at The Chantry Thornbury, Bristol
Colour Mid Grey – 0310 and Light Grey – 0315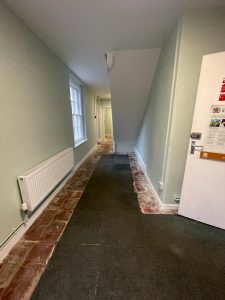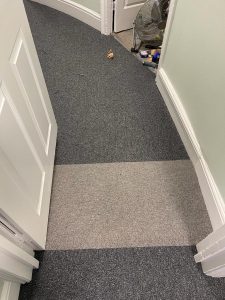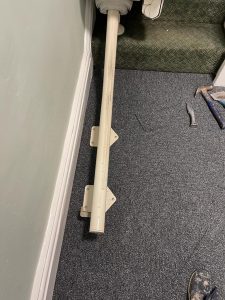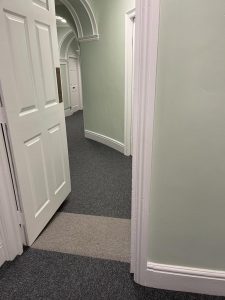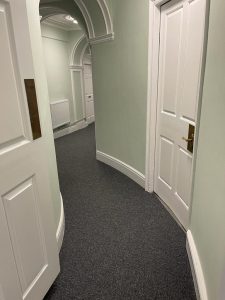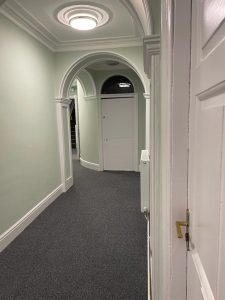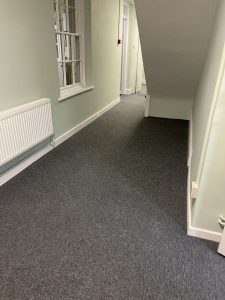 The Chantry Thornbury – Carpet Tiles by Abingdon Flooring

https://www.abingdonflooring.co.uk/range/fusion/
Fusion hardwearing and durable carpet tiles are the perfect choice for high traffic areas and commercial environments such as offices, rental properties and shops. Offered in a comprehensive range of colours, Fusion would give any interior a modern appearance. Available in 50cm x 50cm carpet tiles, the tiles feature a nylon loop pile and a polymer modified bitumen backing.
https://www.thechantry.org.uk/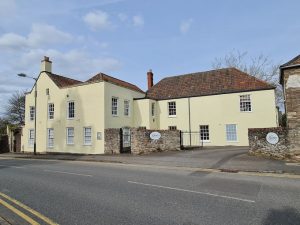 The Chantry is a beautiful historic building dating back to Tudor times, which is home to a Community and Arts Centre in Thornbury.  A wide variety of rooms are available for rent at very competitive rates, catering for small meetings up to gatherings of 70 people.  The Chantry is used by a large number of groups and clubs which meet regularly, as well as many activities and classes open to the general public.
Thornbury and District Community Association
The Chantry is owned and managed by Thornbury and District Community Association (TDCA), which is a registered charity (number 301639).  The objectives of the charity are to provide facilities for the community in and around Thornbury, in order to enable the advancement of education, social welfare, leisure and recreation.   
The Chantry was purchased by TDCA in 1966  and was the first community centre in Thornbury.  It has been maintained and improved over the decades through the efforts of its Trustees and Volunteers. There is a team of part-time paid staff who run the centre on behalf of the TDCA.  
​The Chantry is a wonderful facility in the heart of Thornbury which can play a huge part in maintaining a strong sense of community as Thornbury grows.
PHOENIX FLOORING LIMITED, BRISTOL
Whatever your carpet and flooring needs we are here to help.
Why not pop in to our Thornbury Carpet and Flooring Showroom.
To view our extensive range of floorings.
Karndean, Brampton Chase, LVT, Laminates, wood flooring, sheet vinyl, coir matting, artificial grass, safety flooring, carpet and flooring and much more
We provide a FREE NO OBLIGATION QUOTE on all jobs.  No matter how big or small, residential or commercial.
Our team will happily visit your home or premises and bring samples with them.
Unit 15 Hemingway Business Centre
Walker Way
Thornbury
Bristol
BS34 3US
01454 620707
https://www.phoenixflooringltd.co.uk
enquiries@phoenixflooringltd.co.uk
WHATEVER YOUR TASTE, STYLE AND BUDGET, WE HAVE SOMETHING FOR EVERYONE
WHY NOT DOWNLOAD OUR PHONE APP – SO THAT YOU ALWAYS HAVE OUR INFO TO HAND
CLICK ON THE BUTTON (DOWNLOAD GENIUS APP) ON THE FRONT PAGE OF OUR WEBSITE AND FOLLOW THE INSTRUCTIONS
IF YOU ARE NOT COMFORTABLE COMING INTO THE SHOWROOM, WE WOULD BE MORE THAN HAPPY TO COME TO YOUR HOME AND PROVIDE A FREE MEASURE AND QUOTATION. WE CAN BRING SAMPLES WITH US FOR YOU TO LOOK AT.