Stock LVT Flooring supplied and fitted in a kitchen in Alveston near Thornbury, Bristol.
We supplied and fitted Luxury Vinyl Tiles (LVT) Flooring in a beautiful home in Alveston, near Thornbury, Bristol their kitchen.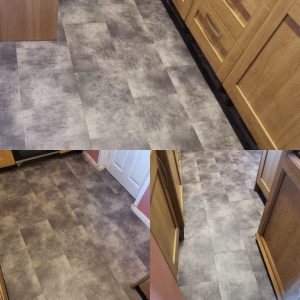 Why not pop into our showroom on Thornbury Industrial Estate and view all our stock.
There are many benefits of LVT. LVT or Luxury Vinyl Tile, is a great choice for any room in your home.  It is becoming increasingly popular due to its authentic designs, durability and waterproofing.
WHAT IS LVT FLOORING?
LVT is a vinyl flooring that is made up from multiple layers.  The surface, or top of the flooring, has a design layer which is an extremely high-quality representation of either wood, stone or tiles.  The designs are very authentic and can help to transform any space without some of the drawbacks of a natural product. The design layer of LVT is topped with a transparent, protective coating with a built-in stain guard and scratch resistance.  As a result, LVT flooring is extremely durable and hardwearing, soft to walk on and even waterproof.
WHAT ARE THE TOP 5 BENEFITS OF LVT?
 1. Durability
LVT flooring is extremely durable and hardwearing.  As already mentioned, the floor has a built-in scratch and stain guard.  LVT is much more robust than wood, tile or laminate flooring that can easily become worn due to daily wear and tear.  Certain manufacturers of LVT even offer a 25-year guarantee on their domestic range.  If you are looking for something even more hardwearing, some types of LVT have been designed to withstand heavy footfall and can be used in commercial properties.
2. Waterproof
Most types of LVT are 100% waterproof, making them ideal for areas like kitchens and bathrooms, or anywhere with excess water.  
3. Authentic Designs
Another one of the benefits of LVT is that are endless designs to choose from.  All are authentic in appearance and give a realistic representation of either wood flooring or ceramic or stone tiles.  The designs are of a high quality and new designs are continually becoming available.  
4. Versatility
LVT is extremely versatile and practical.  Its durability, robustness and waterproof properties mean that it can be installed easily into any room in your home.  It can withstand the high footfall associated with busy areas like hallways and living spaces.  It can be used with underfloor heating and in rooms like conservatories, where temperature constantly changes.  As already mentioned, it can be used in bathrooms, utility rooms and kitchens as most types are fully waterproof.  
5. Easy to look after
LVT is extremely low maintenance.  It doesn't require much maintenance or care.  All you really need to do is keep it clean.