RED BUS NURSERY FLOORING
Carpets and Karndean LVT Flooring completed at Red Bus Nursery – Coombe Dingle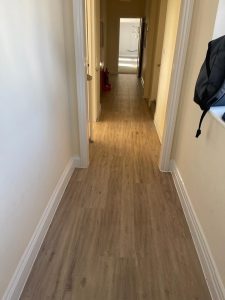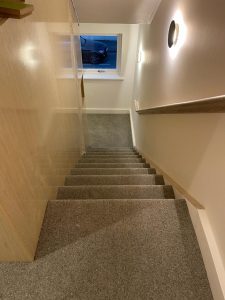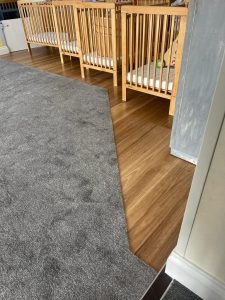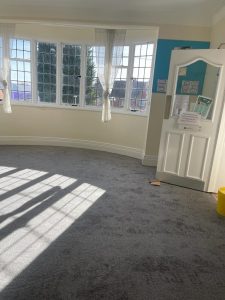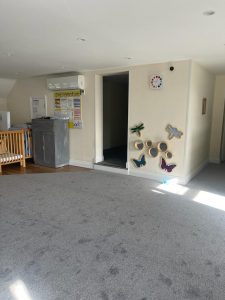 The Red Bus Ethos
Red Bus Nursery & Pre-School is a very special place where children can express themselves and fulfil their development in a caring and safe environment.
Together we can create happy and confident children, who develop at their own pace. We support children in their journey towards responsible self-care and self-regulation to reach their full potential.
We first opened in Coombe Dingle in 2011, and our second setting based in Downend followed soon after in 2015. Our third setting in Flax Bourton opened in June 2022. All are large, interesting buildings full of history that have been transformed into exciting areas for learning and play.
Our settings are filled with over 150 members of staff, all passionate about what they do. Our team has a cumulative 374 years of experience, and our settings are large enough to provide childcare to over 350 children a day across Bristol. That's a lot of big numbers – but with such spacious rooms and a supportive management hierarchy in place, each unit can almost feel like its own smaller nursery!
Our investment in the settings never stops, with new resources such as our Curiosity Room, Library, Kitchen renovation, and extensive gardens introduced in the last few years. Each room has been carefully designed and filled with resources appropriate for each age range.
LIZ'S STORY
Starting the Red Bus Journey
As part of a large family and one of eight, I've always been interested in working with children.
It was only when looking for childcare for my daughter that I realised the very real demand for quality, well run nurseries. My vision took shape and I took to the property market, renovating a superb building in Coombe Dingle – and my daughter was one of the first children to attend!
After successfully opening a second setting in Downend and spurred on by so much positive feedback I set my sights closer to home, opening our third setting in Flax Bourton. The Red Bus journey won't stop here, as we continue to grow our small cluster of exceptional childcare settings and recruiting the best, most passionate practitioners. Together, as one team, we are creating a very special place for children.
https://www.redbusnursery.co.uk/our-settings/coombe-dingle/
PHOENIX FLOORING LIMITED, BRISTOL
Whatever your carpet and flooring needs we are here to help.
Why not pop in to our Thornbury Carpet and Flooring Showroom.
To view our extensive range of floorings.
Karndean, Brampton Chase, LVT, Laminates, wood flooring, sheet vinyl, coir matting, artificial grass, safety flooring, carpet and flooring and much more
We provide a FREE NO OBLIGATION QUOTE on all jobs.  No matter how big or small, residential or commercial.
Our team will happily visit your home or premises and bring samples with them.
Unit 15 Hemingway Business Centre
Walker Way
Thornbury
Bristol
BS34 3US
01454 620707
https://www.phoenixflooringltd.co.uk
enquiries@phoenixflooringltd.co.uk
WHATEVER YOUR TASTE, STYLE AND BUDGET, WE HAVE SOMETHING FOR EVERYONE
WHY NOT DOWNLOAD OUR PHONE APP – SO THAT YOU ALWAYS HAVE OUR INFO TO HAND
CLICK ON THE BUTTON (DOWNLOAD GENIUS APP) ON THE FRONT PAGE OF OUR WEBSITE AND FOLLOW THE INSTRUCTIONS
IF YOU ARE NOT COMFORTABLE COMING INTO THE SHOWROOM, WE WOULD BE MORE THAN HAPPY TO COME TO YOUR HOME AND PROVIDE A FREE MEASURE AND QUOTATION. WE CAN BRING SAMPLES WITH US FOR YOU TO LOOK AT.