Choosing natural flooring
Find out the benefits of choosing the right natural flooring. A sustainable alternative to wood and stone that's practical, long lasting and cost effective.
Hard wearing and durable, today's designs are more refined and softer underfoot, with mellow tones that appeal to those wanting to create a natural look.
Spun and woven from plants, husks and grasses, natural-fibre flooring can be found in different styles and weaves, such as boucle, herringbone, basketweave, twill and plaid.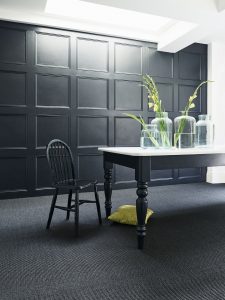 CHOOSING THE RIGHT NATURAL FLOORING MATERIAL?
The popularity of materials such as sisal and seagrass has grown, in part, due to their sustainability.
They don't usually contain artificial colours or chemicals, and are free of pollutants. They are 100 per cent biodegradable, usually processed in an ecologically sound way, and are particularly suitable for asthma sufferers and those prone to allergies.
Find out about the pros and cons of each natural flooring material:
SISAL
Sisal is extracted from the leaves of the Agave sisalana. It is strong and hard wearing, and can be dyed, so it usually offers the widest selection of shades.
This type of flooring is ideal for high-traffic areas, such as hallways and stairs. It is anti-static and regulates humidity in the home.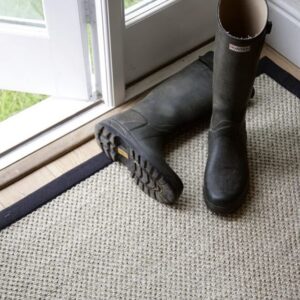 SEAGRASS
This material is grown on riverbanks and paddy-like fields in Vietnam and China. As a type of flooring, it is highly textured and is usually backed with a latex compound to create a hard wearing product.
Seagrass flooring is mainly sold in its natural colour, as it cannot be dyed, but sometimes an additional coloured yarn, such as sisal, is woven into the design.
Its waxy surface makes it naturally stain-resistant and anti-static, but this, and its resistance to bending, means it's not suitable for use on stairs.

COIR
One of the oldest forms of plant floor covering, this is made from coconut husk fibres softened in water.
It has a slip-resistant surface but can be rougher than sisal and seagrass, making it ideal for high-traffic areas.
Unlike some other fibres, it is not susceptible to mildew and damp and doesn't harbour bacteria, making it a good choice for asthma sufferers.
Coir can fade a little in strong sunlight, and prolonged exposure can make it brittle. While not usually dyed, it is often bleached for a creamy, yellow shade.

JUTE
Jute it is harvested from the corchorous plant. It is soft and silky to touch, and is often used in boucle and herringbone weave.
While it is not as hard wearing as the other options and isn't suitable for use in busy areas such as halls, stairs and living rooms.
Jute's soft texture means that it is more popular in lesser-used spaces, such as bedrooms.
Natural-fibre flooring is suitable for most rooms, except kitchens and bathrooms.
Not all types of this flooring can be used on stairs, and some are more hard wearing than others, so discuss their suitability and your needs with us before making your final choice.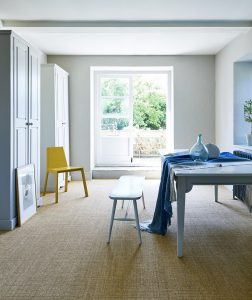 MAINTAINING AND CLEANING NATURAL FLOORING
As with typical types of  carpet, this flooring should be vacuumed regularly with a cleaner without a beater bar, which can damage some types of weave.
Never use normal proprietary carpet-cleaning products, only those recommended by the manufacturer, and refer to its advice over heavy soiling and stains.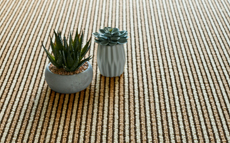 ALL PHOTOS FROM KERSAINT COBB
IN CONCLUSION
WHY NOT CONTACT US
Whatever your carpet and flooring needs we are here to help.
Why not pop in to one our Carpet and Flooring Showrooms.
To view our extensive range of floorings.
Karndean, Amtico, laminates, LVT, vinyl, coir matting, artificial grass, safety flooring, carpet and flooring.
We provide a FREE, NO OBLIGATION QUOTE on all jobs.  No matter how big or small, residential or commercial.
In addition, one of our team will happily visit your home or premises and bring samples with them.
5 Chelford Grove
Stoke Lodge
Bristol
BS34 6DD
OR
Unit 15 Hemingway Business Centre
Walker Way
Thornbury
Bristol
BS34 3US
01454 620707 (same number for both Showrooms)
FACEBOOK: https://www.facebook.com/phoenixflooringlimited/
LINKED IN: https://www.linkedin.com/company/11463803
INSTAGRAM: https://www.instagram.com/phoenixflooringlimited/