KEEP YOUR LVT FLOORING IN TOP CONDITION WITH OUR MAINTENANCE GUIDE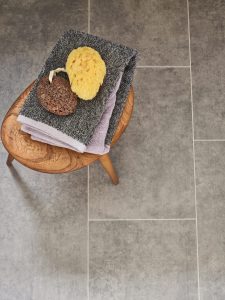 In order to keep your LVT Flooring looking as good as new for as long as possible, it needs to be looked after properly.
Our maintenance guide will ensure that you're getting the most out of your LVT floor and make sure that it's being maintained in the correct way so that it doesn't become damaged.
PLEASE ALWAYS CHECK ONLINE WHAT THE MANUFACTURERS OF YOUR FLOORING RECOMMEND AND FOLLOW THESE GUIDELINES TO ENSURE THAT YOUR WARRANTY REMAINS VALID, AND YOUR FLOORS CONTINUE TO LOOK LIKE NEW!
LVT Flooring – Cleaning Supplies
Before cleaning your LVT floor you need to make sure that you have the right equipment for the job. If you use the wrong tools or cleaning products, then your floor may become damaged.
The basics you will need to clean your LVT are:
Soft brush/broom
Vacuum – set to the low pile setting
Mop and bucket (mop must be totally wringed out)
LVT friendly detergent – many Manufacturers can supply LVT kits or you can find one online
CLEANING AND MAINTENANCE
Day-To-Day Maintenance
For the everyday maintenance of your LVT floors, there's very little that you need to do. To clean the everyday dirt and debris that accumulates on your floor, you simply have to either brush or vacuum your LVT.
For day-to-day maintenance, we recommend using a Swiffer mop to clean your LVT. They are lightweight, simple to use, and extremely flexible. Its flexibility and potential to reach difficult areas such as corners and under beds or sofas etc. have made the Swiffer a popular choice in many homes. However, with a Swiffer mop, you have to use disposable wipes which can be costly.
Additionally, you need to tend to spillages immediately before they settle in, potentially causing stains. You can use a brush and mop to do this. However, when mopping up stains or spillages you should use an LVT-friendly cleaner so that you don't cause further damage to your floor.
Deep Clean
Despite cleaning your LVT floor regularly, you will occasionally need to do a deep clean to repair any damages that may have been caused. If your LVT has become scratched and the scratch isn't too deep in the finish, you can likely buff out the small finish. You could possibly refinish your floor after cleaning, which will likely hide any small scratches or scuffs. However, for deeper scratches, you might need a spot repair kit.
Whilst LVT stains don't happen often, there's still a risk, so you should be prepared just in case! In most cases, you can get rid of a stain with a heavy-duty flooring cleaner. We recommend not using a steam cleaner as the steam can actually cause damage to your LVT flooring. Despite LVT being waterproof, it isn't built to withstand heavy amounts of steam and can lead to warping and/or discoloration.
PROTECTING YOUR LVT FLOORS
Doormats And Rugs
Place doormats near all exterior exits as they will help to stop any dirt or water from coming into contact with your floor. A rug can also help prevent dirt and debris from coming into contact with your floor as well as adding to the décor of your home!
Furniture Felt Protectors
Using furniture felt pads will also protect your flooring from scratching and denting. If furniture is moved around, your floor can become damaged however, if you have felt furniture pads on the bottom of your furniture then this will help decrease the risk of scratches and dents to your LVT. We also recommend picking up your furniture to move it, even if you have furniture pads to further ensure that no damage will come to your LVT.
Spillages
LVT is waterproof so it can withstand more water than solid wood flooring or a laminate floor; however, we don't recommend flooding the floors as this can lead to moisture entrapment which can cause your LVT to warp and mold to grow. If a spillage does occur, it could cause staining, so it is advised to clean up spillages immediately, with a damp mop.
Pets
If you have pets, then you may need to brush and vacuum your floor a couple more times during the week to ensure that any excess pet hairs and dirt they may bring into the home are cleaned up. We also recommend keeping your pets' nails trimmed to avoid your LVT becoming scratched or dented.
Soft Soled Shoes Or No Shoes
An LVT's worst enemy is a pointy stiletto Shoes, they can cause scratching and denting to your floor. So, to protect your LVT you can ask your guests to politely take their shoes off before coming into your home. This will reduce the risk of scratching/denting but also reduce the risk of excess dirt coming into your home. Alternatively, you can allow your family and guests to keep their shoes on as long they're soft-soled shoes this will help reduce the risk of scratching/denting.
LVT DO'S & DONT'S
All our tips and tricks are designed to keep your LVT looking good for as long as possible. However, if you're still unsure here are our top do's and don'ts that we have spoke about throughout this blog!
Do's
Sweep or vacuum regularly
Mop your floor at least once a week with a damp mop or Swiffer
Clean up spillages right away
Place doormats by exterior exits
Place rugs on your LVT to protect the floor
Keep pets' nails trimmed
Dont's
Drag furniture around on LVT
Leave spillages sitting on your floor for long periods of time
Use abrasive cleaning supplies such as scouring/scrubbing pads (include in cleaning paragraph)
Use a steam cleaner
Flood your floor with water
REPLACING YOUR LVT FLOORS
Is your current LVT floor old and looking a little worse for wear? It might be time to invest in a new floor. Why not pop into our carpet and flooring showroom on the Thornbury Industrial Estate and view all our LVT ranges.
CONCLUSION
We hope that our maintenance guide will help to keep your LVT floors looking as good as new for years to come. If you follow our tips and tricks, we are confident that your LVT will stay clean and damage-free! However, if you're unsure about anything just give us a call. It's always better to be safe than sorry! or look online at the MANUFACTURERS CLEANING INSTRUCTIONS.
PHOENIX FLOORING LIMITED, BRISTOL
Whatever your carpet and flooring needs we are here to help.
Why not pop in to our Thornbury Carpet and Flooring Showroom.
To view our extensive range of floorings.
Karndean, Brampton Chase, LVT, Laminates, wood flooring, sheet vinyl, coir matting, artificial grass, safety flooring, carpet and flooring and much more, from all the major brands
We provide a FREE NO OBLIGATION QUOTE on all jobs.  No matter how big or small, residential or commercial.
Our team will happily visit your home or premises and bring samples with them.
Unit 15 Hemingway Business Centre
Walker Way
Thornbury
Bristol
BS34 3US
01454 620707
https://www.phoenixflooringltd.co.uk
enquiries@phoenixflooringltd.co.uk
WHATEVER YOUR TASTE, STYLE AND BUDGET, WE HAVE SOMETHING FOR EVERYONE
WHY NOT DOWNLOAD OUR PHONE APP – SO THAT YOU ALWAYS HAVE OUR INFO TO HAND
CLICK ON THE BUTTON (DOWNLOAD GENIUS APP) ON THE FRONT PAGE OF OUR WEBSITE AND FOLLOW THE INSTRUCTIONS
If you are not comfortable coming into the Showroom, we would be more than happy to come to your home and provide a free measure and quotation. We can bring samples with us for you to look at.