LVT Flooring for bedrooms
Would LVT flooring be good for a bedroom?
A bedroom is meant to be your own space. Essentially, you can make it whatever you want it to be!
Whether you only spend time in your bedroom when you sleep or you hang out there all day, it's important that it fits your lifestyle.
The flooring is an important part of a bedroom space. Therefore, you'll want flooring that looks nice and can last for a long time, so you should consider a vinyl plank floor.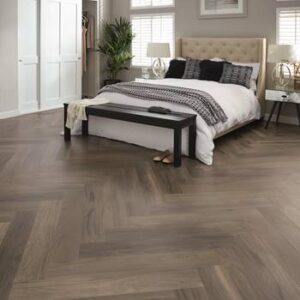 LVT floors offer…
Countless design and colour choices
The cool thing about vinyl is that it can imitate pretty much any floor type. Whether it's hardwood, tile or stone, vinyl can replicate a floor material almost identically. This unique characteristic makes it quite versatile. LVT can represent any type of flooring and can also be found in many colours.
If you want your bedroom to catch everyone's attention, LVT flooring offers many bright colour choices. Or, if you want modern flooring that matches your modern home, LVT also has many contemporary looks as well. In the end, you'll be able to find a vinyl plank floor that suits your preferences.
Durability that should outlast your home
A luxury vinyl flooring is made of multiple layers, one of which is a wear layer. The wear layer tops off the other layers to create a durable plank. All of these layers are combined to be flexible and absorbent. Therefore, the floor type can withstand significant impacts and moisture.
Chances are that your bedroom doesn't have to deal with such threats very often, but it's never a bad idea to guard against them. Even if your bedroom floor isn't at risk, it's still nice to know that your flooring can handle the impact of a desk falling on it or a dropped glass of wine.
Additionally, vinyl plank flooring is perfect for pets. It's hard to scratch, doesn't stain and is simple to clean. You won't have to guard it from pets as you would with hardwood. Nor will you have to vacuum it five times over to get all of the dog hair out like you would have to do with carpet flooring.
Comfort to the touch
An underrated quality of a bedroom flooring is the feeling. Getting out of bed in the morning or in the middle of the night should be comfortable. You probably don't think about it much, but the difference between an uncomfortably hard floor and a cushioned floor is definitely noticeable.
Vinyl does not match the softness of carpet (no flooring option really does), but it's one of the next best options. The combination of softness and visual appeal only comes from a vinyl plank floor. If you're the type of person to go to the bathroom in the middle of the night without any lights on, vinyl will be soft enough to break a potential fall without causing injury.
Affordability
The main selling point might just be vinyl's affordability. Vinyl is significantly cheaper than hardwood and natural stone flooring. Often times, you'll find it cheaper than most tile options as well. There's no reason to pay a high price for flooring that's installed in a room with few to no visitors. In the end, a vinyl plank floor is a simple, functional, inexpensive floor that will carry out its duties in durability and appeal with little maintenance required.