Sisal Carpet
Kersaint Cobb Sisal carpet is made from the leaves of the Mexican agave cactus plant or Agave sisalana. It was originally used by Aztecs to make crude fabrics and paper, and traditionally for rope and twine. The stiff fibre of the large fleshy leaves is stripped off before being processed and spun into a coarse, strong yarn. The fibres are naturally white and can be dyed to give a variety of finishes – Kersaint Cobb uses vegetable dyes to create muted colour blends or solid tones. Sisal can be woven into fine carpets, herringbone styles or thick boucle.
Kersaint Cobb Sisal Carpet – Pros

– Practical and durable – Sisal is one of the strongest natural fibres, known for its longevity and the fact it doesn't wear easily. It's often used for door mats because it's so hard wearing, also making it ideal for stairs and landings
– antistatic qualities – it doesn't build up static, meaning you don't get little shocks, it's smooth to touch
– it draws moisture from the air and which means it helps maintain humidity in a home
– excellent sound absorbing qualities
– It's low maintenance and doesn't trap dust like other coverings, making it ideal for allergy sufferers
– Sisal is naturally dyed without artificial colours, pollutants or chemicals, therefore you know you're putting something 100% natural into your home
– It dyes well, meaning there's lots of choice when it comes to colour and tone
– it is sustainably farmed and is fully biodegradable. The sisal plant requires little to no fertilisers, herbicides or pesticides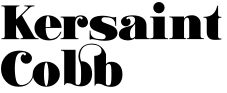 Walk across the world with us…
The hills of New Zealand, the beaches of India, the forests of Asia, the deserts of Africa and South America, these are just some of the places where the story of our beautiful natural floor covering range begins.
Subtle shades and rich tones have been sourced from the finest producers across the world.
Their natural surroundings provide the inspiration for our traditional and modern designs that will bring character and richness into your home.
From the softness and warmth of wool to the exciting textures of grass, jute, coir and sisal, our selection reflects the variety and beauty of the natural world in which we live.
In Conclusion 
With a Kersaint Cobb Flooring, you really can travel the world from the comfort of your own home.
CONTACT US
Whatever your carpet and flooring needs we are here to help.
Why not pop in to one our Carpet and Flooring Showrooms.
To view our extensive range of floorings.
Karndean, Amtico, Laminates, LVT, vinyl, coir matting,  artificial grass, safety flooring, carpet and flooring.
We provide a FREE – NO OBLIGATION QUOTE on all jobs.  No matter how big or small, residential or commercial.
Our team will happily visit your home or premises and bring samples with them.
5 Chelford Grove
Stoke Lodge
Bristol
BS34 6DD
OR
Unit 15 Hemingway Business Centre
Walker Way
Thornbury
Bristol
BS34 3US
01454 620707 (same number for both Showrooms)