IS ARTIFICIAL GRASS PET-FRIENDLY?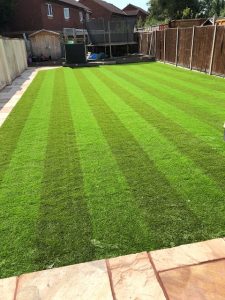 No doubt you will have heard about artificial grass. It's incredibly popular and for good reason. The benefits of artificial grass are extensive – it is low maintenance, durable, it always looks fantastic and it's safe for children and pets.
Is artificial grass pet-friendly?
We often get a lot of questions about whether or not our artificial grass is safe for pets or not. Our artificial grass is not only safe, but it may also actually be better than your current lawn for your pets.
Artificial Grass can help fight allergies
You may be aware that hay fever can be a problem in summer for a lot of people. Though, this allergy isn't unique to humans – our four-legged friends often suffer from hay fever too, and dog hay fever is simply another kind of allergic reaction. A sensitivity to these allergens causes inflammation in the lining of the nose and in the eyes.
Around 10% of dogs in the UK are thought to suffer from canine hay fever. There are a number of things you can do to treat the symptoms, but the most obvious thing to do here is to remove the cause. After all, prevention is better than cure.
By installing artificial grass in your garden you remove the pollen and other allergens that natural grass promotes the growth of, such as mould and mildew, both of which can be harmful to pets.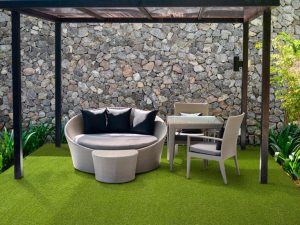 Maintenance of artificial grass
Natural grass can also take quite some time to dry, especially the shaded parts of your garden.  Our artificial grass will give you a quick-draining and drying surface ensuring that your pets will be playing on a dry lawn more often.
Pets can sometimes damage the lawn after it has been raining. It proves almost too tempting for them to dig their little holes into the soft mud that lay waiting for you to nearly break your ankle in when you walk over them. That along with bare and dead/yellow patches from dog urine (fun fact: this is because of the Ph level and high levels of nitrogen in the urine) and that can make it quite tricky for you to keep and maintain a perfect lawn. If not maintained properly, it can quickly descend into a messy lawn that isn't fun or aesthetic to anyone.
Cleaning up your dog mess
While we're on the topic of things that aren't fun for anyone, let's discuss cleaning up dog mess.
You may be thinking that artificial grass may make this process more difficult? It isn't. Cleaning up your pet's mess on an artificial lawn is pretty much the same as grass. It sits on top of the artificial turf but whilst you may not get everything clean with natural grass you can if it's artificial. This is because it does not work its way into the fibres or mud which means that it can be completely removed but any residue that is left behind can be washed away. A simple hose down and brush can get rid of any remains of dog or cat faeces but it is also possible to use disinfectant and it won't cause discolouration.
Artificial grass doesn't just solve the outside mess problem, it also helps with inside too. As you'll no longer have mud and grass attaching itself to shoes and pets, it won't end up inside your home either which means another job can be taken off your list.
What other benefits are there of an artificial lawn?
The benefits of artificial grass really don't end there. We've focused heavily on why artificial grass is safe for pets but what about your garden? After all, you won't choose it unless it makes your garden look better, right?
Natural grass needs certain conditions in order to look green and lush. Try as you might, if the grass grows in a shaded part of your garden, or if the soil just naturally isn't right then you'll struggle. Artificial Grass doesn't need to grow, it doesn't need the sun to give it the right colour or the soil to give it the right growth. It just needs you to pick the grass you like.
Why not pop into one of your showrooms and look at the different types of artificial grass we can supply.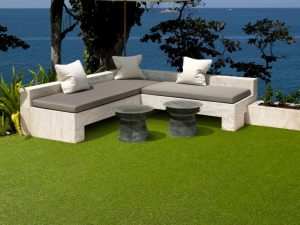 PHOENIX FLOORING LIMITED, BRISTOL – CONTACT US
Whatever your carpet and flooring needs we are here to help.
Why not pop in to one our Carpet and Flooring Showrooms.
To view our extensive range of floorings.
Karndean, Amtico, Laminates, LVT, vinyl, coir matting, artificial grass, safety flooring, carpet and flooring.
We provide a FREE – NO OBLIGATION QUOTE on all jobs.  No matter how big or small, residential or commercial.
Our team will happily visit your home or premises and bring samples with them.
5 Chelford Grove
Stoke Lodge
Bristol
BS34 6DD
OR
Unit 15 Hemingway Business Centre
Walker Way
Thornbury
Bristol
BS34 3US
01454 620707 (same number for both Showrooms)
https://www.phoenixflooringltd.co.uk
enquiries@phoenixflooringltd.co.uk
WHY NOT DOWNLOAD OUR PHONE APP – SO THAT YOU ALWAYS HAVE OUR INFO TO HAND
CLICK ON THE BUTTON (DOWNLOAD GENIUS APP) ON THE FRONT PAGE OF OUR WEBSITE AND FOLLOW THE INSTRUCTIONS