INTERFACE CARPET TILES
The Power of Bright Colours
Beautiful Brights
By Interface Carpet Tiles
Over the years there has been an absolute obsession with neutrals and even pale pastels and dark navy are as ubiquitous as grey and taupe these days.
Bright colours make a bold statement in the world of art and design, therefore offering a much needed, optimistic wake up call from our neutral slumber.
Different colour trends co-exist in current interior design. They all have their place in positive spaces that let people thrive.
The pace of change in colour trends is increasing, making it hard to keep up with the times. In conclusion bright colours can easily create a feeling of playfulness.
Similarly – the intensity of brights can be a turnoff for some and an absolute obsession for others – so be considered in your design.
When in doubt, trust your intuition.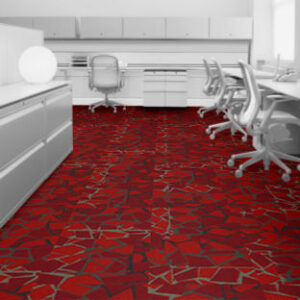 For those that like being dramatic
Applying intense colour to a space can encourage movement, collaboration and activation.
A floor design is an important element of any space. Want to create a floor with maximum impact?
Use a tile with variation in colour and structure, like one of our latest additions, Multichrome.
Or tone it down a little with Monochrome, which offers structure in a single colour. Combine two Composure colours with the Composure Edge transition tile, and you get a floor that offers both neutral and bright with an organic texture.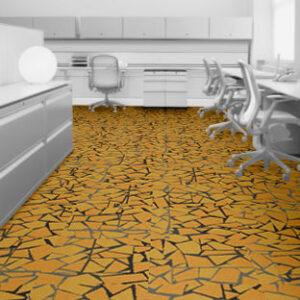 For those of us that are more understated
Enjoy the subtlety of a neon thread woven into a neutral textile or the flicker of something bright within the artwork or other finishes.
The most important thing to remember with brights is balance – seek saturation when needed and create calm with muted tonal greys in sophisticated shades like concrete and cement.
Colour catches the eye in an exaggerated display of saturation – therefore, give in, embrace it in moderation to create an exceptional space.
In other words use brights sparingly or with reckless abandon to create the perfect mix of energising and recharging environments…
Colour lovers, live on!

Interface, Inc. is a global commercial flooring company with an integrated collection of carpet tiles and resilient flooring, including luxury vinyl tile (LVT) and nora® rubber flooring.
Our modular system helps customers create interior spaces while positively impacting the people who use them and our planet.
Our mission, Climate Take Backâ"¢, invites the industry to join us as we commit to running our business in a way that is restorative to the planet and creates a climate fit for life.
CONTACT US
Whatever your carpet and flooring needs we are here to help.
Why not pop in to one our Carpet and Flooring Showrooms.
To view our extensive range of floorings.
Karndean, Amtico, laminates, LVT, vinyl, coir matting, artificial grass, safety flooring, carpet and flooring.
We provide a FREE, NO OBLIGATION QUOTE on all jobs.  No matter how big or small, residential or commercial.
Our team will happily visit your home or premises and bring samples with them.
5 Chelford Grove
Stoke Lodge
Bristol
BS34 6DD
OR
Unit 15 Hemingway Business Centre
Walker Way
Thornbury
Bristol
BS34 3US
01454 620707 (same number for both Showrooms)
FACEBOOK: https://www.facebook.com/phoenixflooringlimited/
LINKED IN: https://www.linkedin.com/company/11463803
INSTAGRAM: https://www.instagram.com/phoenixflooringlimited/