WHAT ARE THE DIFFERENCES BETWEEN HARDWOOD FLOORING TYPES?
First of all, do not confuse the hardwood flooring types with the wood species or variety, which determines the colour and pattern of the floor. Hardwood floor types refer to the way in which the material is put together, whether is it synthetic wood, genuine hardwood or a wood composite with veneers.
All types of hardwood floors have unmatched natural beauty and go with any decor—modern, traditional, commercial, you name it.
There are four main types of hardwood floor. They are: laminate, parquet, solid and engineered hardwood flooring. Here are some details on each variation.
LAMINATE FLOORING
WHAT IS IT?
Laminate flooring is a multi-layer synthetic flooring product, fused together by a lamination process. Laminate flooring is a surface which simulates wood with a photographic applique layer under a clear protective layer.
WHERE TO LAY?
Living rooms, studies and playrooms. Some products include a waterproof core which means they can be used in bathrooms and kitchens.
BENEFITS
The faux wood effect of laminate flooring means that you get a floor with all the aesthetic benefits of wood, but without the hassle of upkeep and at a cheaper price.
It is easy to install.
The surface is also less prone to scuffs and scratches, meaning it is a long-lasting and durable product.
A wide variety of imitations of natural materials are available (from wood to stone).
DRAWBACKS
Even the best laminate flooring won't look or feel exactly like the real thing.
If it isn't laid well, it can look shabby.
The joins wear over time, and once the surface is damaged it is difficult to fix.
Moisture swells it easily and the damage is irreversible.
It cannot be sanded or refinished, like solid hardwood, which means it must be replaced.
PARQUET FLOORING
NB: Parquet flooring can be vinyl flooring, LVT, laminate, solid or engineered hardwood. So it's not technically a hardwood floor type.
WHAT IS IT?
Parquet flooring owes the origins of its name to the French word, parqueterie, and dates back to the 1600s. Typically laid in a geometric, angular style, squares, lozenges and triangles often feature in traditional parquet flooring.
Sometimes referred to as mosaic flooring, parquet flooring is appreciated for its decorative effect. Parquet flooring can be made from solid and engineered wood these days.
WHERE TO LAY?
It looks best in hallways and reception areas so that it can be shown off regularly. It requires a relatively constant atmosphere due to its susceptibility to water or humidity damage.
BENEFITS
Parquet flooring is elegant and adds warmth and beauty to most interior settings.
It is relatively easy to maintain. Abrasive materials can't be used to clean it, but regular sweeping and cleaning using compatible products keeps parquet flooring looking its best.
It is durable and long-lasting.
Parquet flooring adds value to your home.
DRAWBACKS
Parquet flooring is susceptible to scratches and scuffs from small sharp objects, such as high-heeled stilettos. Once damaged, it can be difficult to repair and restore the floor back to its original look.
When exposed to sunlight, parquet flooring can fade.
Like all wood flooring, parquet flooring is subject to damage from moisture and humidity.
It requires frequent upkeep—it is important to polish, sand and seal as required; if this is not done, the floor will look dull and tired over time.
SOLID HARDWOOD FLOORING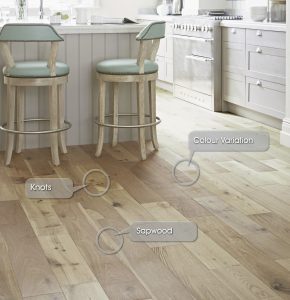 WHAT IS IT?
As the name suggests, solid hardwood floors are made from solid wood. Each board of solid hardwood flooring is made from a single piece of hardwood that's about 3/4 of an inch (18-20mm) thick.
All types of wood have a hardness score which indicates how easily they can be damaged, dented or worn by everyday wear and tear.
WHERE TO LAY?
Anywhere with a constant atmosphere, particularly in hallways where you can show it off.
BENEFITS
It has many aesthetic benefits and, for this reason, solid hardwood floor can add value to a property.
Solid hardwood floors can be sanded down and refinished regardless of how long they have been installed; this can restore the original finish after scuffs or scrapes.
Solid hardwood tends to outlast other hardwood floor types.
DRAWBACKS
Solid hardwood swells in damp conditions and shrinks in dry ones.
It is difficult to install because it has to be glued or nailed down, and fitting the boards together can be tricky because they change shape once they have been manufactured.
It is generally the highest price for entry level products.
ENGINEERED HARDWOOD FLOORING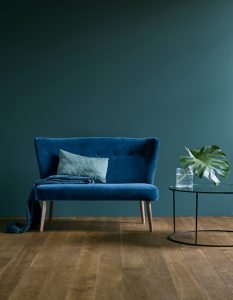 WHAT IS IT?
Engineered wood flooring is a versatile and resilient flooring option. Each floorboard consists of three or four layers of wood, glued together at right angles to create a plank around 14mm thick.
It has a real wood veneer of around 4mm on top.
TO LAY?
Anywhere it won't be exposed to water or humidity. Wooden stairs are very difficult to lay and fitting around places such as toilet pans is hard to achieve a good finish.
BENEFITS
It is more resistant to moisture and heat compared to solid hardwood.
It's construction method makes it more stable than a piece of solid wood; it is less likely to buckle or gap.
You can install engineered hardwood flooring at any level, including below ground. In contrast, solid hardwood floors cannot be installed in basements.
It is more attractive than laminate flooring and cheaper than comparable solid wood planks.
It is highly durable and long-lasting.
DRAWBACKS
There are very few drawbacks, but tongue-and-groove is harder to install than click-lock. We always suggest an experienced fitter installs engineered wood flooring.
It can be a lot more expensive than laminate.
WHATEVER YOUR TASTE, STYLE AND BUDGET, WE HAVE SOMETHING FOR EVERYONE
PHOENIX FLOORING LIMITED, BRISTOL – CONTACT US
Whatever your carpet and flooring needs we are here to help.
Why not pop in to one our Carpet and Flooring Showrooms.
To view our extensive range of floorings.
Karndean, Amtico, Laminates, LVT, vinyl, coir matting, artificial grass, safety flooring, carpet and flooring.
We provide a FREE – NO OBLIGATION QUOTE on all jobs.  No matter how big or small, residential or commercial.
Our team will happily visit your home or premises and bring samples with them.
5 Chelford Grove
Stoke Lodge
Bristol
BS34 6DD
OR
Unit 15 Hemingway Business Centre
Walker Way
Thornbury
Bristol
BS34 3US
01454 620707 (same number for both Showrooms)
https://www.phoenixflooringltd.co.uk
enquiries@phoenixflooringltd.co.uk
WHY NOT DOWNLOAD OUR PHONE APP – SO THAT YOU ALWAYS HAVE OUR INFO TO HAND
CLICK ON THE BUTTON (DOWNLOAD GENIUS APP) ON THE FRONT PAGE OF OUR WEBSITE AND FOLLOW THE INSTRUCTIONS