Gripper on his travels
Why not follow Gripper the Phoenix on his travels on Facebook and Instagram
https://www.facebook.com/phoenixflooringlimited/
https://www.instagram.com/phoenixflooringlimited/
He has was in Birmingham last week.
Visiting Queen Elizabeth Hospital:-
The Queen Elizabeth Hospital Birmingham is an NHS and military hospital in the Edgbaston area of Birmingham, situated very close to the University of Birmingham.
The hospital, which cost £545 million to construct, opened in June 2010, replacing the previous Queen Elizabeth Hospital and Selly Oak Hospital.
It is named after Queen Elizabeth The Queen Mother, who was queen consort and wife of King George VI from 1936 until his death in 1952.
The hospital provides a whole range of services including secondary services for its local population and regional and national services for the people of the West Midlands and beyond.
The hospital has the largest solid organ transplantation programme in Europe.
It has the largest renal transplant programme in the United Kingdom[1] and it is a national specialist centre for liver, heart and lung transplantation, as well as cancer studies.
The hospital has the largest single-floor critical care unit in the world, with 100 beds, and is the home of the Royal Centre for Defence Medicine for military personnel injured in conflict zones.
It is also a regional centre for trauma and burns. The hospital is served by University railway station which is a five-minute walk away.
With over 1,000 beds, QEHB is one of the largest single-site NHS hospitals in the United Kingdom.
#birmingham #qehospital #hospital #checkup #livertransplant#livertransplantsurvivor #carpetsthornbury #carpetsbristol #lvtbristol#lvtthornbury #carpetshop #theboss #bristol #thornbury #bradleystoke#stokelodge #flooringcontractor #flooring #carpet #carpets#gripperthephoenix #phoenix #gripper #softtoy #softtoys#plushtoys #plushtoys #goodnews #happy
Then off for brunch at Frankie and Benny's:-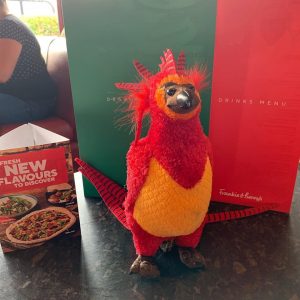 Frankie & Benny's is a chain of Italian-American restaurants in the United Kingdom, with numerous outlets nationwide, run by The Restaurant Group plc.[1][2]
The first location opened in 1995 in Leicester,[3] but now the chain has over 250 locations across the UK.[4]
The years 2015 and 2016 proved tough for Frankie & Benny's, as profits slumped.
This was blamed on poor management of the company and an unnecessary rise in menu prices.
Owners, The Restaurant Group, are currently attempting to reinvent the brand, which introduced a new menu in March 2017.
 #gripperthephoenix #phoenix#softtoy #plushtoy #brunch #restaurant #flooringcontractor #carpetfitter#companymascot #italianfood #americanitalian #birmingham #bristol#thornbury #westburyontrym #filton #bradleystoke #interior4you1#interior2you #stokelodge #yate #bedminster #avonmouth
Here Gripper the Phoenix and the Boss reading emails, whilst waiting for brunch to arrive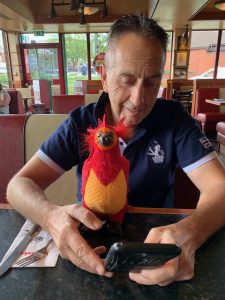 Here is Gripper the Phoenix travelling back to Bristol:-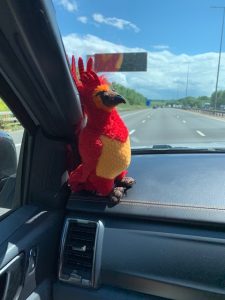 Do you think the drive sent him to sleep? (not sure I trust the Boss's driving that much!!)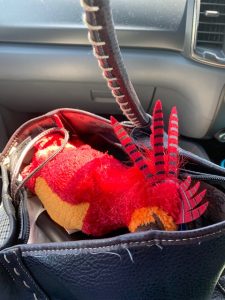 KEEP AN EYE ON HERE, FACEBOOK AND INSTAGRAM TO FOLLOW GRIPPER THE PHOENIX'S TRAVELS.
IN THE MEANTIME – WHY NOT LOOK AT WHAT WE HAVE TO OFFER:-
Whatever your carpet and flooring needs we are here to help.
Why not pop in to one our Carpet and Flooring Showrooms.
To view our extensive range of floorings.
Karndean, Amtico, laminates, LVT, vinyl, coir matting, artificial grass, safety flooring, carpet and flooring.
We provide a FREE, NO OBLIGATION QUOTE on all jobs.  No matter how big or small, residential or commercial.
In addition, one of our team will happily visit your home or premises and bring samples with them.
5 Chelford Grove
Stoke Lodge
Bristol
BS34 6DD
OR
Unit 15 Hemingway Business Centre
Walker Way
Thornbury
Bristol
BS34 3US
01454 620707 (same number for both Showrooms)
FACEBOOK: https://www.facebook.com/phoenixflooringlimited/
LINKED IN: https://www.linkedin.com/company/11463803
INSTAGRAM: https://www.instagram.com/phoenixflooringlimited/