Georgia Tex Sheet vinyl colour Baxley
Georgia Tex Sheet Vinyl colour Baxley supplied and fitted in a beautiful home in Thornbury, Bristol.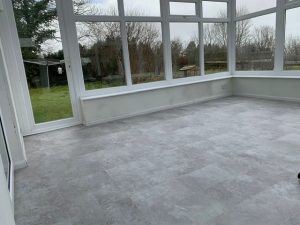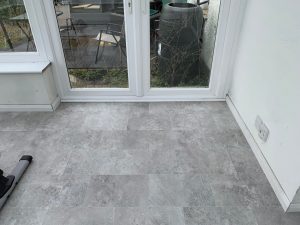 What is a Vinyl Sheet Flooring?
Often used as an alternative to natural stone, ceramic tile, or even hardwood, the Vinyl sheet is especially used in rooms like kitchens, laundry rooms, and bathrooms which are more prone to moisture. The layered construction of vinyl sheets helps in providing stability, cushioning, and a protective finish for durability. Sheet flooring is laid down in sheets that are 6 or 12 feet wide—is water-resistant and easy to install.
Benefits of choosing Vinyl Sheet Flooring:-
• Vinyl sheet flooring is waterproof – Sheet vinyl is made with waterproof materials, such as PVC, which makes this flooring option perfect for water-prone areas of the home. Sheet vinyl is a great fit for any room in your home, but it exceeds expectations in the kitchen, laundry room, basement, and bathrooms. Vinyl sheet flooring is entirely waterproof, so it can be used virtually anywhere inside the home. It is especially suited to wet areas, where water often ends up on the floor, such as bathrooms, kitchens, and laundries.
• Vinyl sheet flooring is comfortable – The vinyl sheet is softer underfoot than other hard-surface flooring options, making it much easier to stand on for long periods of time. It's also warmer to the touch than harder surfaces like ceramic or stone tile. If comfort is a priority for you, look into vinyl sheet options that have an additional layer of cushioning.
• Vinyl sheet flooring is easy to maintain – Caring for a vinyl sheet floor couldn't be simpler, since there's no grout and few (or no) seams. It is also very resilient to stains and scuffs, so when something spills, or a marker gets into the wrong hands, a quick wipe is usually all that's needed. As for everyday cleaning, a regular sweep and occasional mop will do the trick. After sweeping your vinyl floor to remove dirt and grit, simply run a damp mop over it (using an approved vinyl floor cleaner) to keep the flooring looking its best.
• Vinyl sheet flooring is durable – The vinyl sheet can be quite durable. For flooring that's built to last the longest, look for vinyl sheet collections that have the strongest scratch, stain, and wear resistance. Vinyl sheet flooring is highly durable. If installed and maintained correctly, it can last upwards of 10-20 years. That said, sheet vinyl is a great choice for the rooms in your house that get the most foot traffic. Additionally, most vinyl flooring has a wear layer on its surface that resists scratches and stains. Some vinyl products even offer warranties of up to 15 years on the wear layer. As with any flooring, the quality of the material that you purchase will affect how long it lasts.
• Vinyl sheet flooring is affordable – Per square foot, vinyl flooring is one of the most economic options of flooring that you can choose. When you compare the cost to wood, stone, or ceramic flooring, vinyl offers significant cost savings. And if you're handy, you can cut costs even further by installing vinyl flooring yourself.
• Vinyl sheet flooring is easy to install – Installation of vinyl sheet flooring is typically easier than the installation of other flooring materials. Vinyl sheet flooring can also be installed over concrete, hardwood, or plywood. It can even be installed over existing vinyl; however, it isn't recommended if you have 2 or more pre-existing layers.
With so many benefits, vinyl sheet flooring is definitely the best and most affordable option for your home