CARPET AND FLOORING WAREHOUSE SIGNS IN THORNBURY
New signs erected for our carpet and flooring Warehouse on Thornbury Industrial Estate at Unit 15.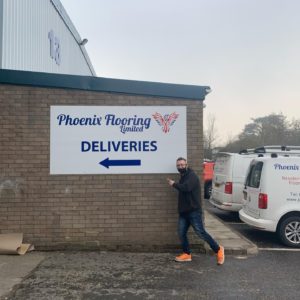 Unit 13 will now be a larger showroom for all our customers. We are now stocking, ready to take away (same day) flooring, rolls of carpets and vinyl's, plus stock of laminates and LVT, along with many remnants in carpet and vinyl.
Our purpose built upstairs Showroom will still be for all new flooring, but we will have a much bigger selection, due to using part of downstairs as well.
We are looking forward to opening up to the public once the Government give Retail Shops dates to open. Hope to see you all soon. Stay Safe
Thanks to Tom at Xposure for designing and erecting the new signs.

https://www.facebook.com/xposuredesign – http://xposuredesign.co.uk/
ABOUT XPOSURE
The services we offer have developed over the years.
Whilst we started with a screen printing shop to compliment our graphic design offerings, this quickly developed into a sign making service which lead us to invest in large format printing. Over the years and as new innovations have been developed, we have aspired to remain at the forefront of emerging innovations within the industry.