Best Flooring For Pets & Children
Your flooring comes into contact with many different elements, especially if you have a busy family household. Pets and children not only take up our time and energy, but they also add to the wear and tear of your floors.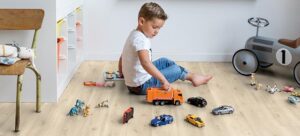 Flooring Durability
Because there will be lots of paw and foot traffic, something that's going to stand up to heavy use without showing wear is probably the most important factor – the last thing you want is to be spending your savings on a flooring for it to then look tired!
As a first rule, we'd stay away from carpet as it can discolour and go flat if it experiences a lot of foot traffic. The most durable floors includes: Wood Flooring, Luxury Vinyl Tiles (LVT) and laminate All of these options will offer incredible durability, often lasting for many years if looked after properly.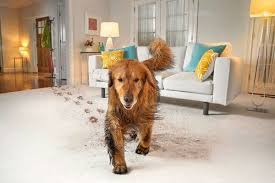 Flooring Maintenance
We understand that when you have a busy household to run, something that is easy to maintain is very important. Laminate and LVT are the easiest to keep clean, with little maintenance needed to keep them looking fresh.
Although real wood presents us with beauty and style, they do generally require more attention than other options. You need to be careful with what mop you use though, don't use a steam mop as this can cause the wood to swell over time.

Another factor to consider is if your flooring will cope with spillages and potential scratches. As we're sure you're aware, the likelihood of spillages resulting in stains is very common with small children – equally, pet's claws are very likely to scratch. Wood flooring is also susceptible to water damage if it comes into contact with liquid spillages which if are not cleared up quickly, can also stain and become scratched easily if not properly protected. Although this isn't ideal, wood can be sanded down a number of times to eradicate any damage. Therefore, if you're prepared for a little more maintenance spread across a number of years, then wood flooring is totally fine.
However, if you're looking for a floor which isn't going to cause you any stress or worry, then we'd go for LVT. Laminate is another worthy contender.
So, don't be worried if you have pets and children, there's many options available that are suitable. Whether you're prepared for a bit of extra maintenance or need something completely carefree, here at Phoenix Flooring Limited, Bristol, we have something that'll accommodate everyone's needs!
PHOENIX FLOORING LIMITED, BRISTOL – CONTACT US
Whatever your carpet and flooring needs we are here to help.
Why not pop in to one our Carpet and Flooring Showrooms.
To view our extensive range of floorings.
Karndean, Amtico, Laminates, LVT, vinyl, coir matting, artificial grass, safety flooring, carpet and flooring.
We provide a FREE – NO OBLIGATION QUOTE on all jobs.  No matter how big or small, residential or commercial.
Our team will happily visit your home or premises and bring samples with them.
5 Chelford Grove
Stoke Lodge
Bristol
BS34 6DD
OR
Unit 15 Hemingway Business Centre
Walker Way
Thornbury
Bristol
BS34 3US
01454 620707 (same number for both Showrooms)
https://www.phoenixflooringltd.co.uk
enquiries@phoenixflooringltd.co.uk
WHY NOT DOWNLOAD OUR PHONE APP – SO THAT YOU ALWAYS HAVE OUR INFO TO HAND
CLICK ON THE BUTTON (DOWNLOAD GENIUS APP) ON THE FRONT PAGE OF OUR WEBSITE AND FOLLOW THE INSTRUCTIONS