WE LOVE GETTING GREAT CUSTOMER REVIEWS
Here are few of the most recent customer reviews: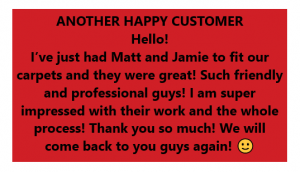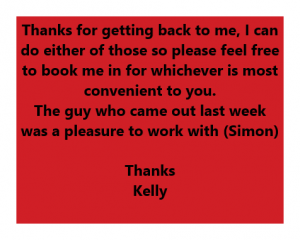 More customer reviews can be found on our Facebook page – https://www.facebook.com/phoenixflooringlimited/reviews or on GOOGLE or here on our website.
If you have used our services recently – we would love it, if you could spare a few minutes of your time and leave us a review.
Online reviews provide social proof to potential customers and give them confidence in you and your business. Let's be honest, customers probably won't believe everything you have to say about your business. However, personal recommendations and word-of-mouth are much more powerful.
Positive reviews reassure potential customers that they can trust your brand, your products, or your services.
The data backs this up. Up to 84% of consumers noted that reviews were important in their purchasing decisions. Additionally, 68% develop an opinion of a product or service after viewing between one to six reviews.
Build brand trust
Online reviews also build brand trust with your audience. If potential customers know that other people had positive experiences with your brand, they're more likely to trust your brand. Reviews build brand credibility and increase the likelihood that consumers will purchase from you.
Online reviews validate expertise
Online reviews also validate your expertise in the eyes of prospective customers. They prove that you have successfully helped other people overcome a specific challenge or accomplish a particular goal (or that your expertise results in high quality products).
Anyone can make claims about how amazing their product or service is, but that doesn't mean those claims are true. By providing evidence of success through online reviews, you demonstrate your expertise and authority.
Most consumers trust online reviews by their peers more than the claims made by a company. Consumers are less likely to believe a claim if there isn't any third-party supporting evidence. Good reviews are a great way to back up your claims.