COMMERCIAL FLOORING BRISTOL
Here at Phoenix Flooring Ltd, Thornbury, Bristol we supply and fit all types of commercial flooring. Why not give us a call or visit us at our carpet and flooring showroom in Thornbury, Bristol.
Our Commercial expert is our Director – Nigel Preen, who has been in this industry for over 45 years, having been a fitter himself, he is able to pass on all his experience and knowledge.
So whether you are looking for carpets, carpet tiles, LVT or commercial vinyl, we have something to suit your budget and taste.
We are currently renovating Future Inns hotel in Bristol City Centre, the main rooms and all the bedrooms – supplying commercial LVT and carpets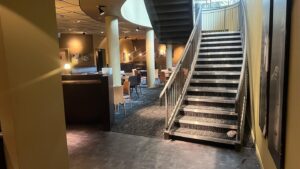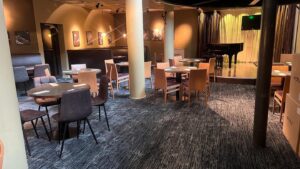 Transform your space with quality commercial flooring. Contact us for expert installation – Bristol 01454 620707
Benefits of Installing Commercial Flooring Bristol
The benefits of installing commercial flooring are numerous.
Increased productivity and efficiency – New floors will make your employees happier leading to increased production and higher customer satisfaction. "The improved mood increases job satisfaction which leads to increased production. This is why choosing to invest in commercial flooring is a wise decision!
Decrease in injuries and accidents – Commercial flooring is a great investment because it reduces accidents while also making your employees feel better about their work space. That makes installing commercial flooring an excellent choice if you're looking to enhance the safety of your company. The increased strength of these floors will help lessen the chance of accidents from tripping, slipping, or falling on an uneven surface while also minimising wear and tear over time. This translates into more productivity at work because employees, clients and all visitors are less likely to get hurt due to unsafe conditions.
Decrease in spills – Spills on flooring are an inevitable part of life. This goes for any kind of business, but they create more problems when there's carpet involved rather than commercial flooring! Businesses with carpets see much higher spill rates which means greater need to have someone clean up those messes. With hard surfaces like tile or wood, spills don't get stuck as easily so less time cleaning up!
Easy on maintenance – Hardwood, carpet tiles, vinyl's all require very little upkeep and maintenance . Regular vacuuming and sweeping is all that's needed to keep them looking good.
Easy on the environment – Commercial flooring materials like wood or LVT's emit lower levels of volatile organic compounds (VOCs) than carpet which can cause long term health problems, especially for those who suffer from allergies.
Reduced expenses – Besides being easier to maintain, these types of floors will also last longer meaning they won't need replacement as often! This means less money spent in upkeep and material costs upfront with more left over for other important business needs.
Improved employee morale – Employees are happier when their work space looks nice so imagine how much more happy yours would be if you had a commercial grade floor installed instead of stained carpets. Experts say it reduces accidents while also making your employees feel better about their work space.
Improved air quality – Installing commercial grade flooring will filter out contaminants and allergens, leaving your workspace cleaner.
Improved appearance – The cost of installing these floors is worth it in the long run because they'll look nicer for years to come! And when it comes time to sell or lease a property, having them installed may even increase its value!
Reduced noise levels – With improved air quality and reduced accidents, your employees are going to be happier while also being quieter meaning more productivity at work.
More longevity and durability – Commercial Flooring offers more longevity and durability which means you're going to be able to enjoy it for years! It is also designed with the high loads in mind so your employees can take a load off their feet without worrying about them giving way.
Reduced maintenance costs – With improved air quality and reduced noise levels comes lowered chances that equipment will break down meaning they'll require less maintenance overall! Not only does this lead to a healthier, more productive work environment but it costs less too!