BRAMPTON CHASE COUNTY OAK
Large Plank Brampton Chase LVT colour County Oak supplied and fitted by Phoenix Flooring Ltd, Thornbury, Bristol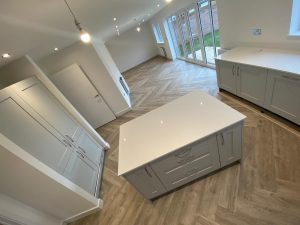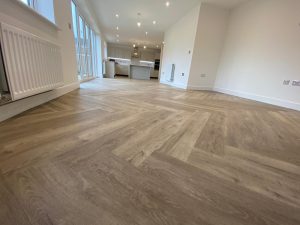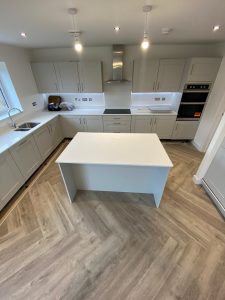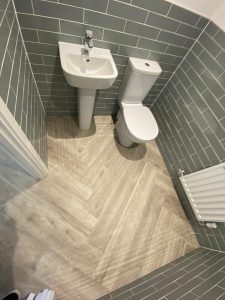 Brampton Chase County Oak in herringbone, also available in large plank size
Get the look…
Rich citrus and soft grey tones
Tactile smart textures
Contemporary minimal styling
Unleash your creativity with Studio Designs.
A choice of modern, elegant wood designs that are available in both contemporary herringbone and stunning large plank sizes. Breathtaking colours featuring fabulous bevelled edges and wonderful surface textures.
Welcome to Brampton Chase
Add natural character to any space with a Brampton Chase Luxury Floor. Each collection is made from contemporary materials and finished with a premium surface design.
We're an independent company based in the heart of Great Britain and specialise in high-performance floors that last a lifetime. We're passionate about product quality and delivering the perfect balance between style and practicality, offering beautiful floors created for both commercial and residential projects
Take a look through our collection of designs with the peace of mind that all floors are waterproof, highly durable, comfortable underfoot, easy to clean and compatible with underfloor heating systems – all backed up with unrivalled customer support. You and your flooring are in safe hands with Brampton Chase.
Brampton Chase Luxury Vinyl Tiles and Planks are amazingly durable, hard wearing and easy to care for. Specialist surface treatments offer extremely strong wear layers which help protect against day to day living, pets, spills and more. Your flooring will look great for years with just a little TLC. By following some simple steps and using the right products you'll keep your floor looking superb and performing to it's maximum effect.
Your flooring in safe hands
Your Brampton Chase luxury floor is covered by a Manufacturing Guarantee. Register your warranty to ensure we have all necessary details  The period of cover depends upon the range that has been purchased and whether it's a domestic or commercial installation. If you find a fault with your flooring please get in touch with the retailer that you purchased it from.
Cleaning and care instructions
Important: Do not use a steam cleaner of any type. These are not recommended for our floors, the intense heat can damage the composite structure and surface protection layer of your floor.
Apply felt protection pads to the base of furniture which sits directly on the flooring.
Use load bearing castors where appropriate.
Avoid sliding or dragging furniture or other heavy objects along the floor.
Knock off dirt, grit and moisture from shoes by making sure you have adequate entrance matting.
Sweep regularly with a soft brush.
Avoid overusing cleaners. Poor diluting or excessive use can build up a residue on the floor surface over time. Also too much cleaning solution can breakdown the PU protection layer and dull the finish of your floor.
Do not use any cleaners or detergents that are bleach based or industrial strength.
Mop up spills as soon as possible to reduce risks of slipping or staining.
Keep animal claws trimmed and manicured.