Bloodhound LSR New Flooring – Carpet Tiles from Abingdon Carpets
About the Bloodhound LSR Project
Bloodhound LSR is a venture based on the Bloodhound Project that is using the Bloodhound SSC Car rescued from administration by Yorkshire-based businessman Ian Warhurst in December 2018.
Since March 2019, the Bloodhound LSR project has been based at the UK Land Speed Record Centre in Berkeley, Gloucestershire. Its parent company is Grafton LSR Limited. The Bloodhound team is now working through its plan of high speed testing followed by setting a new world land speed record in South Africa.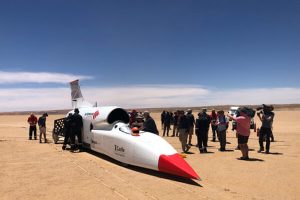 Supporters
Ian Warhurst and the Bloodhound LSR team would like to thank supporters and sponsors for their overwhelming support and goodwill messages. Join the new supporters club to stay up to speed on all the latest project news.
Ian and the Bloodhound LSR team are delighted to announce that all of the fin names will be honoured when the car runs on the desert.
2
1
,
5
0
0
,
0
0
0
square meters of desert cleared by hand
The speed the 95kg aluminium wheels rotate at full speed
3
,
0
0
0
° C the temperature in the rocket is twice as hot as the inside of a volcano
They have a new Training Academy in Berkeley:-
SGS Berkeley Green UTC is a university technical college in Berkeley, Gloucestershire, England, which opened in September 2017. The UTC's sponsors include the University of Gloucestershire and SGS College. The UTC was formally opened by Princess Anne on 5 February 2019.
Revitalised Bloodhound gets new livery and headquarters @ SGS Berkeley Green UTC
The UK Land Speed Record Centre at SGS Berkeley Green UTC provides a 975 square metre workshop facility in the heart of the college campus, fulfilling Bloodhound's promise of delivering educational inspiration.
SGS Berkeley Green UTS group chief executive and executive principal Kevin Hamblin said;
"We're excited that Bloodhound is joining us at Berkeley. To have such a groundbreaking engineering project on site which shares our philosophy to enthuse and encourage the next generation of engineers, designers and scientists, will be invaluable for our own students and also for thousands of young people across the region who will have an opportunity to visit the Gloucestershire Science and Technology Park over the next few years and see the car for themselves."

https://www.berkeleygreenutc.org.uk/blog/bloodhound-new-home
Abingdon Carpet Tiles – Infinite
CONTACT US
Whatever your carpet and flooring needs we are here to help.
Why not pop in to one our Carpet and Flooring Showrooms.
To view our extensive range of floorings.
Karndean, Amtico, Laminates, LVT, vinyl, coir matting, artificial grass, safety flooring, carpet and flooring.
We provide a FREE – NO OBLIGATION QUOTE on all jobs.  No matter how big or small, residential or commercial.
Our team will happily visit your home or premises and bring samples with them.
5 Chelford Grove
Stoke Lodge
Bristol
BS34 6DD
OR
Unit 15 Hemingway Business Centre
Walker Way
Thornbury
Bristol
BS34 3US
01454 620707 (same number for both Showrooms)
https://www.phoenixflooringltd.co.uk
enquiries@phoenixflooringltd.co.uk
WHY NOT DOWNLOAD OUR PHONE APP – SO THAT YOU ALWAYS HAVE OUR INFO TO HAND
CLICK ON THE BUTTON (DOWNLOAD GENIUS APP) ON THE FRONT PAGE OF OUR WEBSITE AND FOLLOW THE INSTRUCTIONS