LVT FLOORING BENEFITS
In this blog, we'll explore the benefits of  LVT Flooring, showcasing why it deserves your attention when considering a new flooring solution.
In the world of flooring, LVT has emerged as a highly sought-after option, after gaining significant popularity in recent years. Offering a range of benefits, this flooring is winning hearts all over the UK for its versatility, durability, aesthetics, and more.

REALISTIC APPEARANCE
One of the most remarkable features of LVT flooring is its ability to mimic natural materials like wood, stone and tile with astonishing realism. Advanced printing technologies have made it possible to create intricate designs, textures, and finishes that closely resemble their natural counterparts. Even the grains and imperfections found in natural materials are meticulously replicated, providing an authentic and visually appealing flooring option. Whether you desire the classic elegance of hardwood, the rustic charm of stone, or the sleek appearance of modern tiles, LVT flooring can provide the desired aesthetic at a fraction of the cost.
If you are looking for a realistic wood effect LVT flooring, why not take a look in our Carpet and Flooring Showroom in Thornbury, Bristol.

DURABILITY AND RESILIENCE
LVT flooring is renowned for its exceptional durability, making it an ideal choice for high-traffic areas of the home. Constructed with multiple layers, LVT flooring includes a sturdy wear layer, rigid core, and tough protective layer. The overall construction of the flooring makes it highly resistant to scratches, stains, and dents. It can even withstand the impact of heavy furniture, foot traffic, and the pitter-patter of pets' paws, ensuring it retains its beautiful appearance for years to come. However, we always advise regular cleaning and maintenance to ensure longevity and keep your new flooring pristine.
Thanks to its exceptional durability and resistance to wear, LVT flooring offers excellent longevity. It's also highly resistant to fading, even when exposed to direct sunlight. This ensures that the colour of your flooring remains vibrant for years, maintaining the visual appeal of your space. With proper maintenance and care, LVT can last for many years, providing a reliable and attractive flooring option.

MOISTURE RESISTANCE
Wood flooring, whether engineered or solid, is notoriously bad for coping with moisture and humidity content. Whereas the benefits of LVT is that is has been specifically constructed to manage high levels of moisture, making it suitable for bathrooms. Luxury vinyl tiles can also be placed in other moisture-prone rooms, or areas where spillages are likely, such as kitchens and basements. Regardless of where you're thinking of installing LVT, you can relax knowing that your flooring is 100% waterproof. While you might not require a fully waterproof floor for your kitchen, it is worth considering in any room with moisture content since the water-resistant properties of LVT help prevent warping, swelling, and mold growth.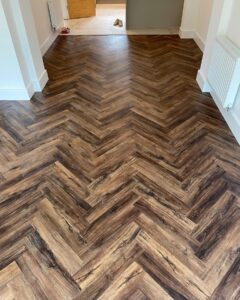 COST-EFFECTIVE
LVT flooring offers a cost-effective alternative to natural materials without compromising on quality or aesthetics. It's no secret that natural materials such as hardwood or stone can be expensive to purchase and install. Whereas LVT flooring provides a budget-friendly option.
Since it can provide the same look and feel at a fraction of the cost, LVT has become a popular option for budget-conscious homeowners or large-scale projects. Plus, the durability and longevity of LVT flooring further contribute to its cost-effectiveness, as it reduces the need for frequent replacements or repairs.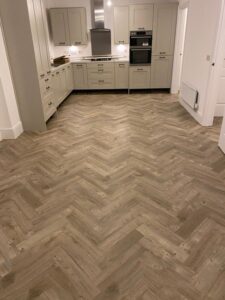 EASY MAINTENANCE
LVT flooring offers a hassle-free maintenance routine, making it a favourite among busy family homes with pets or children. Just a quick sweep and an occasional mop with mild cleaner is all it takes to keep LVT flooring pristine. Unlike natural materials that require periodic refinishing, LVT flooring maintains its original beauty without the need for extensive upkeep.
The easy maintenance aspect of LVT flooring often makes it a popular choice for people with allergies or respiratory sensitivities too. This is because whilst not hypoallergenic, LVT flooring does not trap dust, allergens, or pet dander like other floors do. When you pair this with how easy it is to clean and maintain this flooring, it makes for a popular option. Especially when compared with other alternatives such as carpet which is difficult to clean and quickly gathers dust and pet hairs.
As with any flooring, we always suggest that you check out the manufacturers maintenance advice, which is aways available online, this ensures you keep your LVT Flooring it in pristine condition.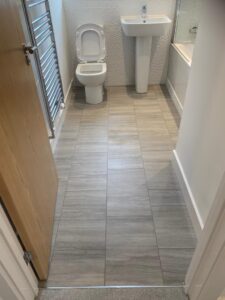 QUICK AND EASY REPAIRS
If your LVT flooring does become damaged, you can rest assured knowing that it is easy to repair. Unlike with most floor types, individual tiles or planks can be replaced without the need to remove the entire flooring. This convenience saves both time and money, ensuring your floor looks as good as new for as long as possible.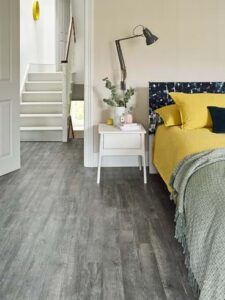 COMFORT AND NOISE REDUCTION
LVT flooring provides a comfortable underfoot experience due to its flexible and resilient nature. The multiple layers of LVT act as a cushion, providing a softer surface to walk on compared to harder materials like tile or stone.
Additionally, LVT flooring effectively absorbs sound, reducing noise transmission within the space. We often find this is ideal for customers who want to renovate their bedroom or live in upstairs apartments.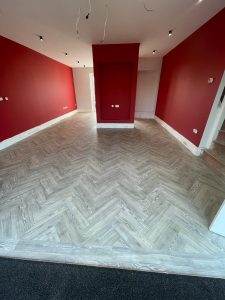 CONCLUSION OF THE LVT FLOORING BENEFITS
Overall, LVT flooring offers a winning combination of benefits, earning its place as a top flooring choice for many homeowners. Regardless of which style of LVT you choose, we're sure you'll be thrilled with the finished results.
Looking for inspiration? Why not pop into our Carpet and Flooring Showroom.
IF YOU ARE THINKING OF NEW FLOORING (COMMERCIAL OR DOMESTIC), AND WANT TO BUY BRITISH, WHY NOT DROP INTO OUR SHOWROOM, GIVE US A CALL OR EMAIL US TODAY.

PHOENIX FLOORING LIMITED, BRISTOL
Whatever your carpet and flooring needs we are here to help.
Why not pop in to our Thornbury Carpet and Flooring Showroom.
To view our extensive range of floorings.
Karndean, Brampton Chase, LVT, Laminates, wood flooring, sheet vinyl, coir matting, artificial grass, safety flooring, carpet and flooring and much more, from all the major brands
We provide a FREE NO OBLIGATION QUOTE on all jobs.  No matter how big or small, residential or commercial.
Our team will happily visit your home or premises and bring samples with them.
Unit 15 Hemingway Business Centre
Walker Way
Thornbury
Bristol
BS34 3US
01454 620707
https://www.phoenixflooringltd.co.uk
enquiries@phoenixflooringltd.co.uk
WHATEVER YOUR TASTE, STYLE AND BUDGET, WE HAVE SOMETHING FOR EVERYONE
WHY NOT DOWNLOAD OUR PHONE APP – SO THAT YOU ALWAYS HAVE OUR INFO TO HAND
CLICK ON THE BUTTON (DOWNLOAD GENIUS APP) ON THE FRONT PAGE OF OUR WEBSITE AND FOLLOW THE INSTRUCTIONS
If you are not comfortable coming into the Showroom, we would be more than happy to come to your home and provide a free measure and quotation. We can bring samples with us for you to look at.