BATHROOM FLOORING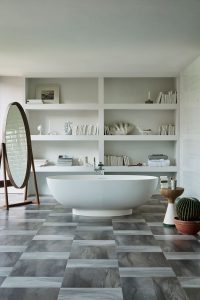 Helpful, affordable, a lot of choices, stylish and modern. What springs to mind when you see all these words when talking flooring? Hopefully, it is Phoenix Flooring Limited and you are thinking about our range of flooring styles which would be perfect for your new home renovation project.
If you are renovating your bathroom, you are probably doing top to bottom. Help us to help you make it brand new and exciting to see. Obviously, as a flooring company, we always recommend that you start from the bottom up when designing a new room or home, or if you are just renovating. You will be surprised at how something as simple as changing your bathroom flooring will change everything. You might be considering sheet Vinyl Flooring, Luxury Vinyl Tiles (LVT), Safety Flooring or even Laminate Flooring (Waterproof).
What flooring should I have in my bathroom?
Luxury Vinyl Tiles (LVT), are currently popular choices for homeowners when building or renovating their rooms. But what would we suggest? Of course, it is all down to style when it comes to your bathroom. You are likely to use your bathroom every morning to shower or bath, as well as clean your teeth. Although it is up to you, we would not recommend having carpet or wood flooring in your bathroom.
Choosing the right bathroom flooring has never been more important. Our best sellers for the bathroom are sheet vinyl flooring and LVT, both are proving to be increasingly popular.
For vinyl flooring as well as laminate flooring, we possess lots of choices for our customers in every colour, pattern and shape, meaning your bathroom floors can look exactly how you want them to. But where do you begin?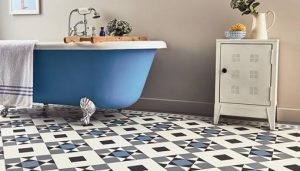 Start with your bathroom budget
If you are renovating your home, you will probably have an overall budget that you have in mind. You may then have split this into categories and rooms, and this will give you a clearer indication of what type of flooring may be right for you. Sheet Vinyl flooring is one of the more affordable types of flooring and comes in the form of both planks and tiles, plain and patterned.
Bathroom tiles can be a more economical choice even if you are still looking to add the WOW factor to your bathroom. You can design them how you want, or take a look at the extensive range of our vinyl flooring, which would be ideal for your bathroom, here. So, look at your budget, and then pay us a visit at either of our Showrooms either Stoke Lodge or Thornbury, Bristol to see how we can help you.
Choose your favourite style
Ultimately, the decision is down to you. You may be looking at all the choices and wondering what on earth you need, but regardless of what we tell you and others tell you, the decision is down to you. We just want to guide you in the right direction and help stop you from making any kind of bad decisions when it comes to flooring.
We will make sure we help you with every decision and ensure you choose the right flooring.
CONTACT US
Whatever your carpet and flooring needs we are here to help.
Why not pop in to one our Carpet and Flooring Showrooms.
To view our extensive range of floorings.
Karndean, Amtico, Laminates, LVT, vinyl, coir matting, artificial grass, safety flooring, carpet and flooring.
We provide a FREE – NO OBLIGATION QUOTE on all jobs.  No matter how big or small, residential or commercial.
Our team will happily visit your home or premises and bring samples with them.
5 Chelford Grove
Stoke Lodge
Bristol
BS34 6DD
OR
Unit 15 Hemingway Business Centre
Walker Way
Thornbury
Bristol
BS34 3US
01454 620707 (same number for both Showrooms)
https://www.phoenixflooringltd.co.uk
enquiries@phoenixflooringltd.co.uk
WHY NOT DOWNLOAD OUR PHONE APP – SO THAT YOU ALWAYS HAVE OUR INFO TO HAND
CLICK ON THE BUTTON (DOWNLOAD GENIUS APP) ON THE FRONT PAGE OF OUR WEBSITE AND FOLLOW THE INSTRUCTIONS