Balta Carpets – Chelsea Wiltax
Patterened Balta Carpets in the Chelsea Wiltax range.
See below for just a few samples.
Why not pop into our Stoke Lodge Showroom, to see the full range.
Market leader in the production of tufted or woven broadloom carpets in polypropylene.
The wide variety of quality products can be split up in four collections:
Stainsafe: A pratical, easy to clean and bleach cleanable carpet
Leonis: A luxurious carpet with a soft pile and shiny luster
X-Tron: Carpets made from this high performance fibre are ideal for heavy duty areas
Made in Heaven: Luxurious, soft and practical polyester carpet.
They also have years of experience in producing carpets in 100% Pure new Wool under the Woolmaster brand.
Carpet tiles by Balta also offer a wide variety of practical residential carpet tiles in the traditional 50 x 50 size.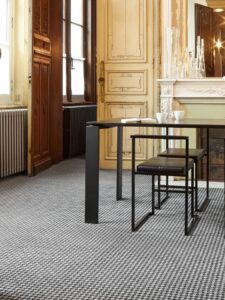 Who we are

Balta carpets
European market leader for tufted and woven wall-to-wall carpet, in both synthetic and wool yarn.
The innovative and market-oriented polypropylene collections are known under three registered brands.
Stainsafe, practical and easy to clean. Leonis, soft and shiny.  X-Tron for intensive use.
The award winning 'Made in Heaven' brand stands for soft and luxurious polyester carpets.
Balta Carpets are also known for its expertise in producing natural wool carpets under the brand Woolmaster.
We also offer a wide collection of residential Luxury Carpet Tiles under the brand LCT First.
We are always up with the latest trends and thanks to a flexible customer service driven approach.
IN CONCLUSION
WHY NOT CONTACT US
Whatever your carpet and flooring needs we are here to help.
Why not pop in to one our Carpet and Flooring Showrooms.
To view our extensive range of floorings.
Karndean, Amtico, laminates, LVT, vinyl, coir matting, artificial grass, safety flooring, carpet and flooring.
We provide a FREE, NO OBLIGATION QUOTE on all jobs.  No matter how big or small, residential or commercial.
In addition, one of our team will happily visit your home or premises and bring samples with them.
5 Chelford Grove
Stoke Lodge
Bristol
BS34 6DD
OR
Unit 15 Hemingway Business Centre
Walker Way
Thornbury
Bristol
BS34 3US
01454 620707 (same number for both Showrooms)
FACEBOOK: https://www.facebook.com/phoenixflooringlimited/
LINKED IN: https://www.linkedin.com/company/11463803
INSTAGRAM: https://www.instagram.com/phoenixflooringlimited/