Auckland 100% Wool Carpet from CFS can be supplied and fitted by Phoenix Flooring Limited, Bristol
Auckland 100% Wool Carpet is a stunning wool carpet available in a range of earthy tones, to give that subtle charm to your interior.
#woolcarpet #carpet #carpetinstallation #carpets#carpetsbristol #carpetsthornbury #flooring #flooringideas#flooringinstallation #flooringexperts #floorings #thornbury #bristol #yate#clifton #bradleystoke #interior #interiordesign #interiordecorating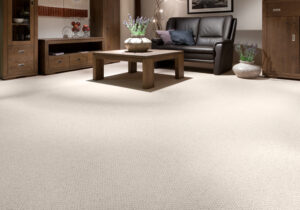 colour Hive 369 Coral
Wool carpets have had a reputation for quality and durability for hundreds of years. Wool as a fibre can withstand pressure, has a beautiful appearance and excellent appearance retention properties. The very best wool for carpet production is 'string' wool. This type of wool can be found on sheep breeds located in Britain and New Zealand. Many carpets contain both New Zealand wool and British wool; British wool is bulky, tough and offers a unique texture whilst New Zealand wool is a lot softer and whiter, which makes this the ideal material for plan or lighter shade ranges.
Wool has an intrinsic strength and doesn't necessarily need any other fibre to improve its performance, but in certain circumstances and for particular reasons it is often blended with other fibres, primarily man made ones.
Manufacturers choose to use synthetic materials in the yarn for quite a few reasons. Here are just a few:
Fibre flexibility
Dyeing
Heat setting
Stain resistance
Durability
These wool rich hybrids will perform well in the home and below are just a few reasons why.
Strength and resistance
As we mentioned previously, wool provides superb performance with its long lasting durability; it has a natural crimp which means it can offer a 'bounce-back'. This means that the pile compression, tracking marks and shading are significantly reduced. This is why wool carpets are able to maintain such a good appearance over many years.
Easy to care for
Wool is a completely natural fibre, which means it contains natural oils. These oils are resistant to soiling so, for the most part, all you will need to keep your carpet looking good is regular vacuuming. Whilst wool will repel some spills, some quick thinking and an absorbent cloth are recommended, as the first part of a solution to those inevitable household spills.
Comfort
There's nothing more luxurious than the comfort and warmth of a wool carpet. The wool is energy efficient as it will act as an insulator keeping your house warm.
Wool will also absorb sound and will cushion the home against echoes and noise from the family.
There remains a strong consumer perception of the link between quality, luxury and the feel and appearance of wool carpet whether 100% wool or wool rich.
Wool is naturally fire resistant and has an extremely slow ignition rate.
Fall friendly
Your wool carpet will therefore act as a cushion which will prevent any serious injury in fall, from the young to the very old. Above all, when it's installed over a good quality underlay, which can also ensure that your carpet reaches, or even exceeds, it's useful life expectancy.
Environment
Wool is a natural 'smart' fibre and can help to create a balanced atmosphere in any home. It also has the ability to absorb humidity in the air and will then release it back when the atmosphere becomes dry.
The minute scales of the wool's fibres will hold fine dust until it is vacuumed, which will minimise any floating particulate in the atmosphere. The use of a good quality vacuum cleaner, of appropriate type for your particular carpet construction will again ensure that a carpet will look and perform as it should.
Natural and sustainable
Wool grows on sheep, which will graze freely and this is why it is 100% natural and fully sustainable. Shearing is a crucial part of caring for these animals and there is a fresh supply of wool available every year for the carpet industry.
Biodegradable
Wool is biodegradable in soil! It will produce nitrogen, sulphur, carbon dioxide and water which are all plant nutrients.
CONTACT US
Whatever your carpet and flooring needs we are here to help.
Why not pop in to one our Carpet and Flooring Showrooms.
To view our extensive range of floorings.
Karndean, Amtico, Laminates, LVT, vinyl, coir matting,  artificial grass, safety flooring, carpet and flooring.
We provide a FREE – NO OBLIGATION QUOTE on all jobs.  No matter how big or small, residential or commercial.
Our team will happily visit your home or premises and bring samples with them.
5 Chelford Grove
Stoke Lodge
Bristol
BS34 6DD
OR
Unit 15 Hemingway Business Centre
Walker Way
Thornbury
Bristol
BS34 3US
01454 620707 (same number for both Showrooms)