What is vinyl sheet flooring?
Vinyl sheet is often used as an alternative to natural stone, ceramic tile or even hardwood, especially in rooms like kitchens, laundry rooms and bathrooms that are more susceptible to moisture. The layered construction provides stability, cushioning and a protective finish for durability.
Can I get vinyl sheet flooring that looks like hardwood or natural stone?
Most people think vinyl sheet, then envision kitchens of decades past. Well things have definitely changed. Innovative technology allows us to create vinyl sheet styles with visuals and texture so realistic they can be mistaken for real hardwood, ceramic or stone flooring. Homeowners with great taste are opting for premium vinyl sheet over other flooring types for its winning combination of realism, on-trend stylishness and practical durability.
What are my design options for vinyl sheet flooring?
"Natural realism" is a popular trend in vinyl sheet flooring. Lots of homeowners want to capture the look and feel of objects found in the natural world, but also have the stress-free maintenance of vinyl.
There's no shortage of color options in vinyl sheet floors. For looks inspired by natural materials, like hardwood, stone and slate, you'll find shades of white, beige, red, orange, brown, green, blue and grey. Alternative looks like geometric patterns and black and white checkerboard are also available.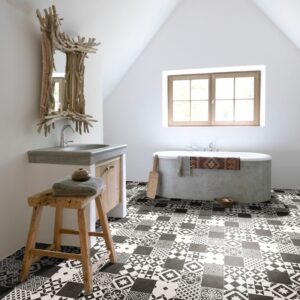 Trending Styles
These days, many vinyl sheet flooring collections have improved color clarity and embossing that creates texture to match the visual. It's what makes many wood-look or stone-look vinyl sheet floors actually look close to the real thing.
The level of realism in some of these collections is truly amazing. And so is the range of on-trend styles you can achieve:
Traditional hardwood
Exotic wood species
Rustic and distressed wood
Weathered wood
Limestone
Sandstone
Slate
Decorative geometric patterns
Checkerboard
Where can I install vinyl sheet flooring?
Versatile vinyl sheet flooring is great for any room in the house. You can install it on any level of the home — above, on or below ground. It's an especially good choice for high-traffic areas like kitchens and playrooms, or moisture-prone areas like bathrooms and laundry rooms. Vinyl sheet is meant for flat, level surfaces. Sorry, no stairs!
What is the best vinyl sheet flooring for an active home?
Are your floors under constant assault by sneakers, spills and sloppy kids? Fear not. Vinyl sheet has experienced a performance revival, so now a whole new level of flooring protection is possible.
How long does vinyl sheet flooring last?
Vinyl sheet can be quite durable. In fact, many Armstrong Flooring vinyl sheet products are warranted for 25 years or even a lifetime for residential use.
Is vinyl sheet comfortable to stand on?
Vinyl sheet is softer underfoot than other hard-surface flooring options, making it much easier to stand on for long periods of time. It's also warmer to the touch than harder surfaces like ceramic or stone tile. If comfort is a priority for you, look into vinyl sheet options that have an additional layer of cushioning.
What maintenance can I expect with vinyl sheet floors?
Caring for a vinyl sheet floor couldn't be simpler, since there's no grout and few (or no) seams. Armstrong Flooring with the extra protection of Diamond 10® Technology is also very resilient to stains and scuffs, so when something spills, or a marker gets into the wrong hands, a quick wipe is usually all that's needed. As for everyday cleaning, a regular sweep and occasional mop will do the trick.
Whatever your carpet and flooring needs – why not pop in to one our Carpet and Flooring Showrooms at Stoke Lodge or Thornbury, Bristol and view our extensive range of Karndean, Amtico, Laminates, LVT, vinyl, coir matting, carpet and flooring.
We provide a FREE – NO OBLIGATION QUOTE on all jobs, no matter how big or small, residential or commercial.Our team will happily visit your home or premises and bring samples with them.Please visit one of our Showrooms at :
5 Chelford Grove
Stoke Lodge
Bristol
BS34 6DD
OR
Unit 15 Hemingway Business Centre
Walker Way
Thornbury
Bristol
BS34 3US
01454 620707 (same number for both Showrooms)
https://www.phoenixflooringltd.co.uk
enquiries@phoenixflooringltd.co.uk